You Can Now Use Your iPhone to Find a Lost Siri Remote in tvOS 17 and iOS 17
Apple yesterday released new firmware for the second and third-generation Siri Remotes, and the update appears to enable the tvOS 17 feature that is designed to allow an iPhone to locate a misplaced Apple TV remote.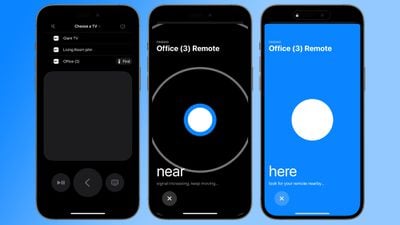 With the new firmware, tvOS 17, and iOS 17, if a ‌Siri‌ Remote becomes lost, the ‌Apple TV‌ remote control available in the Control Center on an ‌iPhone‌ can be used to locate the missing remote.
Users will see a Find My-like interface that guides them toward the remote, with the size of the onscreen circle increasing to guide movement in the correct direction.
Find My for the ‌Siri‌ Remote is available on the second and third-generation ‌Siri‌ Remotes. The updated firmware is necessary, and there is no established method for getting the ‌Siri‌ Remote to update. The ‌Apple TV‌ will need to be up to date, on, and connected to the ‌Siri‌ Remote to initiate, but there is no way to force the new firmware to download.
Prior to the launch of the latest ‌Apple TV‌ 4K, there were rumors that Apple would build ‌Find My‌ functionality into the ‌Siri‌ Remote. That didn't happen, but this new tvOS 17 option is essentially the same thing. The new ‌Siri‌ Remote feature has not been available previously as it required new firmware to function.
Locating the remote through the Control Center is possible because of deeper integration between the ‌iPhone‌ and the
iPad
with the tvOS 17 and ‌iOS 17‌ updates. Locating the ‌Siri‌ Remote is a feature that is limited to the ‌Apple TV‌ 4K models released in 2021 and 2022.