USB-C iPhone 15 May Tempt Some Android Owners to Switch, Survey Suggests
The iPhone 15's expected move to USB-C this year may motivate a large number of Android users to switch phones, according to a survey conducted by SellCell.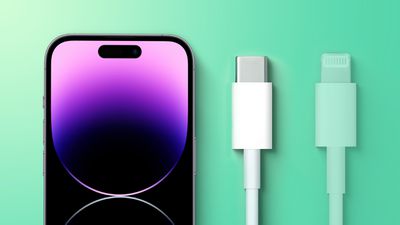 SellCell asked over 1,000 iPhone users and over 1,000 Android users in the United States to gather its data. Of existing iPhone users surveyed, 63% said that Apple moving to a USB-C charging port would influence their decision to upgrade to an iPhone 15.
Of those that would be motivated to buy because of USB-C, the majority of iPhone users (37%) said they would upgrade because they would be able to use a single charging cable for iPhones, Macs, and iPads. Overall, 66% of iPhone users said that they will upgrade to an iPhone 15.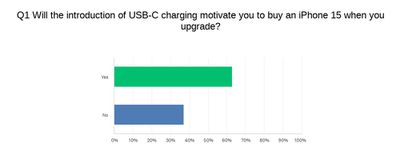 iPhone owners' responses when asked if they will upgrade to iPhone 15
Perhaps the most surprising result of the survey was the number of Android users whose interest had been piqued by Apple's heavily rumored switch to the charging standard: 44% of existing Android owners surveyed said they would be tempted to buy an iPhone 15 if Apple adopts a USB-C port for the device. In the same group, 35% said their motivation stemmed from the fact that the iPhone would become compatible with chargers for non-Apple devices.
In the cohort of existing Android fans, 66% overall said they would not be buying an iPhone 15, and 34% said they will potentially upgrade to the iPhone 15.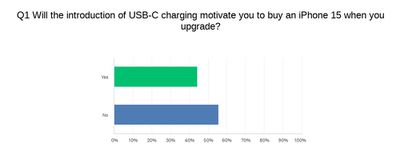 Android owners' responses when asked if they would be tempted to upgrade to a USB-C iPhone 15
Apple has kept the Lightning port on the ‌iPhone‌ for over 10 years. The company's proprietary charging port was introduced in September 2012 with the iPhone 5, but in recent years Apple's Macs and iPads have all transitioned to the more common USB-C charging standard. Apple's expected decision to switch the iPhone to USB-C this year was facilitated by pressure to comply with new regulations implemented in Europe for all consumer mobile and laptop devices to use a universal charging standard.
Apple is expected to unveil its new iPhone 15 lineup at its "Wonderlust" September 12 event, alongside the Apple Watch Series 9 and a second-generation Apple Watch Ultra, among other possible new products.