Apple to Acquire Major Classical Music Label BIS Records
Apple will acquire the major Swedish classical music record label BIS Records, intending to fold it into Apple Music Classical and Platoon.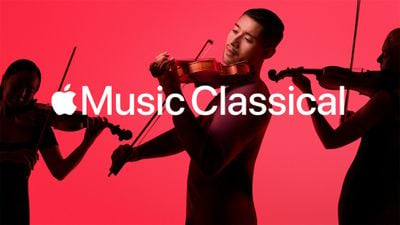 BIS Records was founded in 1973 by Robert von Bahr. The label focuses on a range of classical music, with particular focus on works that are not well represented by existing recordings. It is an award-winning name in the world of classical music, acclaimed for its vast catalog and impressive audio quality. The label celebrates its 50th anniversary this week.
The company announced its impending acquisition by Apple earlier today. The BIS Records homepage now features a statement from founder Robert von Bahr:
Dear Friends,

A few days ago BIS Records turned 50 years old and I am immensely proud of what our small team of people has accomplished during this half-century. BIS's specialty, while paying our dues to the core repertoire, has been to nurture young classical artists and interesting living composers and to safeguard the musical treasure that we all represent long into the future. It is to that end that, after much careful consideration, and having just turned 80, I am excited to announce the rather momentous news that we have made the decision to become part of the Apple family.

We thought long and hard on how to maintain and build upon our prestigious history and looked for a partner who would further our mission, as well as an increased global platform to bring classical music to new audiences all over the world. Apple, with its own storied history of innovation and love of music, is the ideal home to usher in the next era of classical and has shown true commitment towards building a future in which classical music and technology work in harmony. It is my vision and my sincerest dream that we are all a part of this future.

There have been numerous moves of late by Apple to further support creativity within the classical space, not the least of which was the release of Apple Music Classical earlier this year. Apple and BIS also share a fundamental belief in the importance of preserving audio quality. As you are all aware, BIS has always been about exceptional sound quality, and Apple's dedication to sound, as well as to Spatial Audio, is something I have followed with interest.

BIS will become part of Apple Music Classical and Platoon. As proud as I am of this milestone, I am even more proud of the fact that the entire personnel of BIS, including me, have been retained. We all look forward to a future, filled with new music and artists in golden sound from this increased force in classical music.
BIS is set to become a part of ‌Apple Music‌ Classical and the Apple-owned label Platoon. Apple acquired Platoon, a London-based A&R startup focused on discovering rising music artists, in 2018.
In 2021, Apple announced that it had purchased the classical music streaming service Primephonic and would be folding it into ‌Apple Music‌ via a new app dedicated to the genre. Apple released the Apple Music Classical app in March. The app offers a simpler interface for interacting with classical music specifically. Unlike the main ‌‌Apple Music‌‌ app, ‌‌Apple Music‌‌ Classical allows users to search by composer, work, conductor, catalog number, and more. Users can get more detailed information from editorial notes and descriptions.
It provides access to over five million classical music tracks, including new high-quality releases, in addition to hundreds of curated playlists, thousands of exclusive albums, and other features like composer bios and deep dives on key works. Apple commissioned high-resolution digital portraits of famous composers like Ludwig van Beethoven, Frédéric Chopin, and Johann Sebastian Bach for the app, using color palettes and artistic references from the relevant classical period, with more unique artwork to be added over time.
Upon the app's release, Apple said that it had been working with classical music artists and institutions to offer exclusive content and recordings. The acquisition of BIS Records appears to be the latest move to bolster the service.