Apple Music Classical Now Available for Pre-Order on the App Store, Launches Later This Month
Apple's long-awaited dedicated classical music app today appeared on the App Store and is available for pre-order ahead of its launch at the end of March.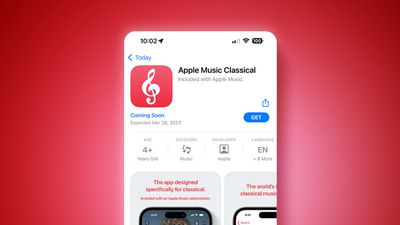 In 2021, Apple announced that it had purchased the classical music streaming service Primephonic and would be folding it into Apple Music via a new app dedicated to the genre. "‌Apple Music‌ Classical" is now on the App Store and expected to be released on March 28, 2023. Users can pre-order the app now so that it downloads as soon as it is available. It is included for free as part of an ‌Apple Music‌ or Apple One subscription.
Speaking to TechCrunch, Apple said that the new ‌Apple Music‌ Classical app offers ‌Apple Music‌ subscribers access to over five million classical music tracks, including new high-quality releases, in addition to hundreds of curated playlists, thousands of exclusive albums, and other features like composer bios and deep dives on key works.
The app offers a simpler interface for interacting with classical music specifically. Unlike the existing ‌Apple Music‌ app, ‌Apple Music‌ Classical allows users to search by composer, work, conductor, catalog number, and more. Users can get more detailed information from editorial notes and descriptions.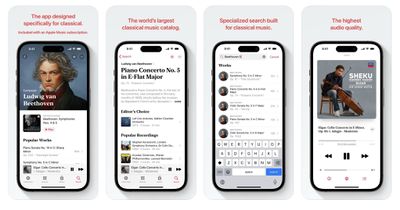 Apple commissioned high-resolution digital portraits of famous composers like Ludwig van Beethoven, Frédéric Chopin, and Johann Sebastian Bach for the app, using color palettes and artistic references from the relevant classical period, with more unique artwork to be added over time. Apple says that it has been working with classical music artists and institutions to offer exclusive content and recordings.
‌Apple Music‌ Classical will only support iOS devices running iOS 15.4 or newer at launch. A version of the app for Android is also set to arrive "soon." Users can track news and updates about the ‌Apple Music‌ Classical on the new @appleclassical Twitter account.