Threads Social Network Gets First Major Update
The Threads social network from Meta today received its first significant update that introduces a range of new features that improve the functionality of the social network. Updates include a tab for seeing who follows you so you can follow them back, an option to subscribe to unfollowed users, improvements to activity feed loading times, and translation option to translate posts that are in a different language.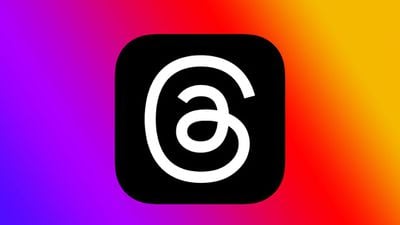 Instagram software engineer Cameron Roth shared a full list of new features on Threads.
- 👓 translations!
- 👥 follows tab on activity feed
- 🔔 subscribe to unfollowed users
- ❤️ activity feed scrolling + loading improvements
- 👀 following + on thread replies page
- 👆 tappable reposter labels
- 📸 open the IG followers list
- 🔧 a few small crash fixes. we're now at 0.02%📉
- 🔪 more binary size cuts
- 🐞 a handful of other small bugs
While there is a Threads update available in the App Store, the updates are being pushed server-side. To see the new features, users may need to restart their app and also wait some time for the features to be fully released to everyone. Full availability of the new features may be delayed until tonight for some users.
Threads saw more than 100 million downloads during the first week after launch, and while the number of daily active users has since fallen, it still has millions of users less than two weeks after it debuted. Instagram head Adam Mosseri over the weekend said that "growth, retention, and engagement" are ahead of where he expected, and that the focus now is on "building new features, dialing in performance, and improving ranking."
Meta CEO Mark Zuckerberg similarly said that "10s of millions of people now come back daily" and for the rest of the year, the company plans to focus on "improving the basics and retention."
Threads can be downloaded from the ‌App Store‌ for free. [Direct Link]
Note: A prior version of this story suggested that the follows tab was to see posts from people you followed. Cameron Roth has clarified that this is incorrect, and that the "follows tab" is simply a place to see who you are following on threads.