Rare 4GB Original iPhone Expected to Fetch Up to $100K at Auction
A factory sealed original 2007 iPhone is going up for auction starting tomorrow, and it is expected to sell for up to $100,000. While other original iPhones have been sold off in recent months, this is the first model that has 4GB of storage rather than 8GB.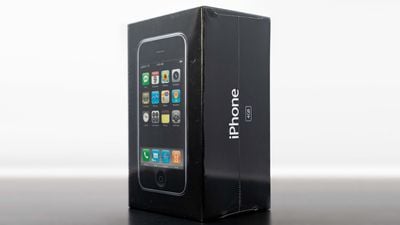 As auction site LCG Auctions explains, the ‌iPhone‌ was originally sold with either 4GB or 8GB of storage when it launched 16 years ago on June 29, 2007. The 8GB model was far more popular, leading Apple to discontinue the 4GB model after just a few months in favor of a higher 16GB capacity.
Because the 4GB original ‌iPhone‌ was only available for a limited amount of time, it is the rarest of the first-generation ‌iPhone‌ models. "Based upon our recent record-setting sales and the fact that the 4GB model is probably 20-times rarer than the 8GB version, we would not be surprised if it establishes a new record sale price," said LCG Auctions founder Mark Montero.
The person selling the ‌iPhone‌ was part of the original engineering team when the ‌iPhone‌ launched, according to LCG Auctions, and it comes with a letter of provenance. The 4GB model was sold for $499, while the 8GB version cost $599.
Just this year, an 8GB original ‌iPhone‌ sold for $63,000 in February, while a second sealed original ‌iPhone‌ with 8GB of storage sold for $54,000 in March.
LCG Auctions is also selling an 8GB original ‌iPhone‌ and a 16GB original ‌iPhone‌, both of which are factory sealed. The auctions begin on June 30 and run through July 16.