Beats Studio Buds + Deliver Improved Performance and a Transparent Design Option for $169.99
After nearly two months of leaks, the Beats Studio Buds + earphones are now official, with the audio brand from Apple revealing improved performance and some new color choices compared to the original Beats Studio Buds, including an eye-catching Transparent option.
Priced at $169.99, a $20 increase over the original model, the Beats Studio Buds + deliver improvements to fit, Active Noise Cancellation (ANC), Transparency mode, microphones, battery life, and more.
The most immediately obvious change for the Beats Studio Buds + is the overall look, with the new Transparent color option being the standout alongside a Black option with Gold accents and an Ivory option. The Transparent design is reminiscent of what Nothing has been doing with its phones and earphones, although the specific look is rather different. While Nothing has gone with a completely transparent outer surface for portions of its devices, Beats' transparency isn't quite as clear but includes essentially every part of the exterior of the buds, case, and even the eartips.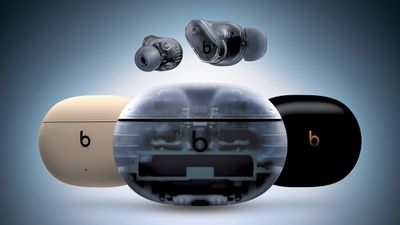 Beyond the new colors, the Studio Buds + look essentially identical to the original Studio Buds, but Beats says 95% of the internal parts are brand-new including 3x larger microphones for improved sound capture and a brand-new venting and mic port design. As with the previous model, the Studio Buds + include IPX4 sweat and water resistance to stand up to workouts and weather.


When it comes to fit, Studio Buds + offer improvements there as well with a new extra-small eartip option joining the existing small, medium, and large sizes to fit a wider range of ears with a better seal.
The multi-function "b" button on each earbud has been redesigned to reduce accidental presses and offer a firmer feel. The button continues to offer standard media controls where a single press handles play/pause, a double press skips forward, and a triple press skips backward.
A press-and-hold function allows you to toggle between ANC and Transparency mode, but it can also be configured to activate a voice assistant or adjust volume up and down. Call handling functionality can also be customized to require either one or two presses to end a call.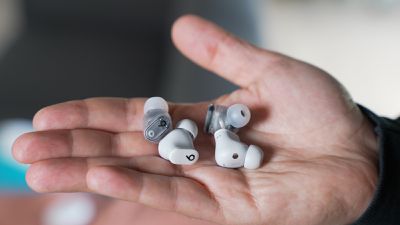 Transparent Studio Buds + vs. White Studio Buds
Aside from ANC and Transparency, Beats Studio Buds + also support Spatial Audio content on
Apple Music
, although they do not include the immersive head-tracking functionality found on the Beats Fit Pro and several AirPods models.
Rather than using Apple's H1 or H2 chip, the Beats Studio Buds + use a custom second-generation "Beats Proprietary Platform" that offers many of the same features as Apple's chips such as "Hey Siri" and Find My support, automatic device switching via iCloud and more, while also offering similar features on Android such as ‌Find My‌ Device, one-touch pairing, and automatic pairing to all devices linked to the same Google account.


With a revised vent design and ANC processing now housed on the primary chipset, the Studio Buds + have up to 1.6x better ANC than the previous model and up to 2x better Transparency performance. The buds also include playback correction, which attempts to remove residual acoustic artifacts that can be introduced by ANC or Transparency processing. A feedback microphone and secondary filter analyze the audio data at up to 50,000 times per second to ensure playback accuracy.
Additional improvements to voice performance focus on noise suppression and voice targeting to make sure speech is as intelligible as possible, while the larger microphones deliver a higher signal-to-noise ratio with greater sensitivity. Machine learning was used to train the system in a variety of noisy environments for optimal voice capture.


Battery life sees a significant boost in the Studio Buds +, with the earbuds providing up to 9 hours of battery life with ANC and Transparency turned off and the case providing an additional 27 hours for a total of 36 hours of battery life, a 50% increase compared to the original Studio Buds. With ANC or Transparency turned on, you'll get 6 hours out of the buds on a single charge, with an additional 18 hours available from the charging case.
As with the original Studio Buds, the case for the new model charges via USB-C and does not support wireless charging, and a tiny USB-C to USB-C cable is included. A full charge of the case and buds takes two hours, but a 5-minute Fast Fuel feature delivers up to an hour of battery life when you're running low.
All three colors of the Beats Studio Buds + are priced at $169.99 and are available to order starting today at apple.com and Amazon in the United States, Canada, and China, with shipping beginning tomorrow. Releases in other countries will follow over the next few months.