Apple Watch Fall Detection Features Save Two Lives
The Apple Watch's health features are making headlines this month, and have been credited with saving at least two lives. Fall Detection came in handy in two emergency situations in Minnesota and Ohio.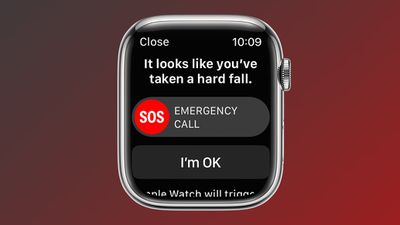 In Minnesota, Apple Watch user Michael Brodkorb was hit by a vehicle that then fled the scene. His Apple Watch detected the impact using Fall Detection and dialed 911 after he was unable to respond. "I was just shocked," he said. "I mean, just the sheer force of what it's like to get hit by a vehicle."
Along with calling 911, the Fall Detection feature alerted his wife and children inside the house, so he was able to get immediate help. He ended up with injuries to his ribs and tailbone. "It absolutely is a life-saving tool," Brodkorb said. Police did find the driver, a 17-year-old boy, but it is not yet clear if he will be charged.
During his recovery, Brodkorb sent an email to Apple CEO Tim Cook, who wished him a speedy recovery.
In Cincinnati, 83-year-old William Fryer was walking on the Ohio River Trail when his knees gave out. No one was around, but his Apple Watch detected the fall, called emergency services, and alerted his daughter.
Cincinnati police were able to locate him and paramedics transported him to the hospital. X-rays ultimately showed that he had a large blood clot that caused his fall, but the blood clot symptoms had been atypical as they had not been noticed. Fryer had the clot removed, and said that he was grateful his Apple Watch had been able to summon help.
The Fall Detection feature on the Apple Watch can be enabled by opening up the Apple Watch iPhone app, going to Emergency SOS, and toggling on the Fall Detection option. Fall Detection is enabled by default for Apple Watch owners over 55, but younger Apple Watch users can also turn it on.