Falling Mac Sales Have Apple's OLED Panel Suppliers Spooked
Apple plans to transition Macs and iPads to OLED displays over the next few years, but a new report out of Korea claims panel suppliers are holding back key investment in next-gen OLED production lines over rising concerns about slumping Mac sales.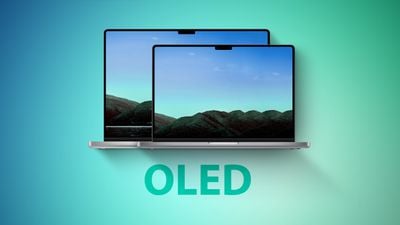 Apple will launch its first OLED iPads next year and South Korean panel makers intend to use their existing Gen 6 OLED lines to cover Apple's 2024 supply needs. But for iPads and MacBooks after that, Samsung Display and LG Display plan to build Gen 8 production lines, which yield more OLED panels per substrate than Gen 6 lines and are more cost effective.
However, according to The Elec, the two panel makers have yet to place orders for key equipment needed to build the Gen 8 production lines, which take at least a year to complete.
The outlet's sources suggest the Korean panel maker's hesitancy to invest is directly linked to concerns over profitability. There is no precedent for OLED panels being used in MacBooks, therefore ambiguity remains over how much Apple will be willing to pay for the panels.
But there is now growing concern over just how many units Apple will order given the recent slump in MacBook sales. Apple in its recent quarterly earnings call reported a significant year-over-year decline in Mac revenue, falling from $10.4 billion to $7.2 billion. In the previous quarter, Mac revenue was also down to $7.7 billion compared to $10.9 billion in the year-ago quarter.
The decline follows a pattern amid a severe downturn in the global PC market, with reports indicating that Apple responded earlier in the year by requesting a temporary suspension in the production of Mac processors, and they only resumed at half of supplier TSMC's production capacity.
With OLED displays in MacBooks likely to only increase the sales price, display panel suppliers reportedly believe Apple will inevitably attempt to cut unit prices down.
Samsung in April said it plans to spend 4.1 trillion won ($4.1 billion) building Gen 8 OLED production lines up to 2026. With the Korean display maker facing demands from OLED machine suppliers to pay development fees on top of machine prices, and LG Display already in the red, both face difficult investment choices in the months ahead without guaranteed orders from Apple.
Apple reportedly plans to sequentially introduce new ‌iPad Pro and Mac models with OLED displays. Display analyst Ross Young said that he expects a ‌MacBook Air‌ with an OLED panel to launch as soon as 2024, which could also be the year Apple launches an OLED iPad Pro.
Samsung is expected to have a lasting role in supplying the OLED panels, contributing to the iPad Pro, ‌MacBook Air‌, and 14- and 16-inch MacBook Pros, although the Pro models are not expected to transition to OLED displays until 2026.