Apple Maps Redesign Now Rolling Out in Taiwan, Hong Kong, and Slovakia
The redesigned version of the Maps app that Apple has been rolling out worldwide since 2019 is now being tested in Taiwan, according to Apple Maps expert Justin O'Beirne. The refreshed look is not available to all Apple Maps users as of yet, and Apple has not officially announced it.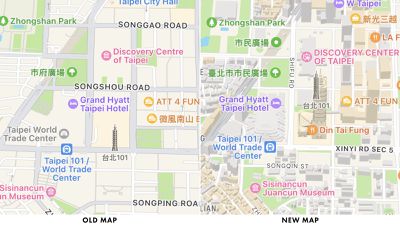 With the updated design, landmarks and buildings are shown in 3D, and green spaces, parks, trees, roads, and other areas are displayed in more detail and with more accuracy.
Apple's revamped map experience also provides iPhone, iPad, and Mac users with better navigation, turn-by-turn walking directions with augmented reality, and in general, a much more detailed and immersive Maps interface.
This design began rolling out in September 2018 in Northern California, and as of 2019, it was available across the United States. Apple has since expanded it to multiple other countries, most recently adding Finland, Norway, Sweden, Austria, Croatia, Czechia, Hungary, Poland, and Slovenia.
O'Beirne expects the new ‌Apple Maps‌ design to be officially live in Taiwan in June.
Update: O'Beirne has updated his article to note that the new maps are also in testing for Hong Kong and Slovakia.