Microsoft Now Rolling Out iMessage Support on Windows With Several Limitations
Microsoft today announced it is beginning to roll out iPhone support to the Phone Link app on Windows 11. In a blog post, the company said this functionality will be available to all Windows 11 users around the world by mid-May.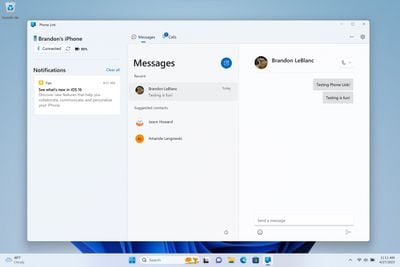 With the Phone Link app for Windows 11 and the Link to Windows app for iOS, iPhone users can make and receive phone calls, send and receive text messages, and view notifications directly on their PC. Notably, this means Windows 11 kind of supports iMessage, although there are several limitations, including a lack of support for group chats, photos, videos, and conversation history beyond the current chat session.
All messages appear as gray bubbles in the Phone Link app, meaning iMessages and SMS text messages cannot be differentiated on a PC. In addition, messages are only delivered to a PC while the iPhone is connected via Bluetooth. Microsoft says the iPhone must be running iOS 14 or later, and this feature is not available for the iPad or Mac.
All in all, this is a rather clunky workaround to Apple's lack of true iMessage support on Windows, but it's better than nothing for iPhone users with a PC. Microsoft had been testing iOS support for the Phone Link app in beta since February.