Watch Tim Cook's Reaction as Fan Brings Vintage Macintosh to Apple Store Opening in Mumbai
Apple CEO Tim Cook logged a busy day on Tuesday as his whirlwind trip to India involved various meet-and-greets with new retail staff, local app developers, celebrities, and politicians, but it was the arrival of a long-time Apple fan at the Apple BKC store launch that appeared to generate the Apple chief's most excited reaction.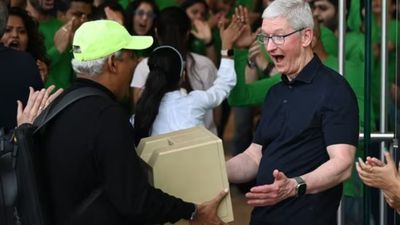 Image credit: AFP
Cook looked visibly surprised when Sajid, a local UX designer, unexpectedly turned up to the store opening in Mumbai with a vintage Macintosh SE, circa 1987. Wearing the iconic turtleneck style of Apple co-founder Steve Jobs, Sajid chatted fondly with Cook about his prized possession and posed for pictures while the store employees and crowd cheered.
"I am a designer myself, I was a print designer and moved to UI/UX, so I do digital design now," Sajid told Moneycontrol. "I am very happy and proud that Apple is opening a store here finally. It is a big moment for Apple users in India and we can look forward to coming to this store and exploring all the latest Apple products."
The Macintosh SE was released by Apple in March 1987, and was introduced at the same time as the Macintosh II. The Macintosh SE was replaced in 1990 with the Macintosh Classic, a similar model which retained the same central processing unit and form factor, but was offered at a lower price point. Eight years later, Steve Jobs asked Cook to join Apple, where his first position was senior vice president for worldwide operations.
Apple's sales in India hit a new high of almost $6 billion in the year through March 2023. The company's revenue in India grew by nearly 50%, from $4.1 billion a year earlier, according to
one report
.
Cook is continuing his India trip today in New Delhi, with the Apple chief taking in local cultural sites and artistic highlights. Cook is expected to attend the opening of Apple Saket, the capital's first Apple Store, on Thursday, April 20. It is the CEO's first trip to India in seven years.