Google Plans to Launch $1,700 Foldable Smartphone in June
Google in June plans to join Samsung in the foldable smartphone market with the launch of the Pixel Fold, reports CNBC. The device is expected to be priced around $1,700, which is in line with Samsung's pricing.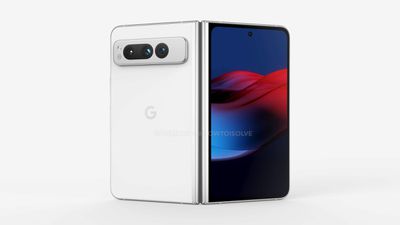 The Pixel Fold will be introduced at Google I/O in May, and Google plans to market it as a device with the "most durable hinge" on a foldable smartphone. When opened, the Google Fold will feature a 7.6-inch display (the same as the Galaxy Z Fold 4), and it will open up like a book. It will be water-resistant, sized to fit easily in a pocket when folded, and it will have a battery that is able to last for up to 24 hours.
Most of Google's Pixel devices are relatively affordable, but the Pixel Fold will have a high price tag due to the cost of the display and the hinge. Google has already been adapting Android for foldable devices, and CNBC says that the Pixel Fold will allow it to better demonstrate what a Google-made foldable phone experience is like.
With the Pixel Fold coming in June, Google will beat Apple to foldable smartphones. There are rumors that Apple has been experimenting with foldable iPhones, but the company could actually introduce the technology in the iPad first.
At the current time, there is no solid word on just when Apple might introduce its first foldable iPhone, but analysts have suggested it won't come until 2025 at the earliest.