Warner Bros. to Replace HBO Max With New 'Max' Streaming Service
Warner Bros. today announced plans to launch a new streaming service that will merge HBO Max and Discovery+ content. The HBO brand will be eliminated, and the streaming service will be called just "Max."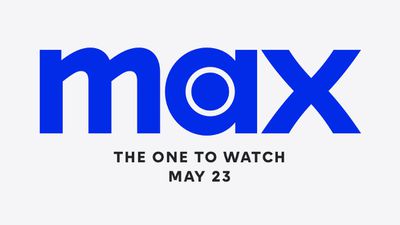 HBO has undergone several different rebranding efforts over the years, as there were previously HBO GO and HBO Now streaming services that were merged into HBO Max in 2020. The "Max" rebrand that drops the HBO name comes after a 2022 merger between Discovery and WarnerMedia. At the time of the merger, the newly formed Warner Bros. Discovery company made it clear that HBO Max would eventually be combined with Discovery+, and rumors in December hinted at the "Max" naming.
Abandoning the HBO branding is a curious decision as the HBO Max streaming service is known for some very popular shows, such as Succession, Game of Thrones, Euphoria, The White Lotus, and The Last of Us. The Max streaming service will have three different price points available:
Max Ad-Lite: $9.99/month or $99.99/year. Includes 2 concurrent streams, 1080p resolution, no offline downloads, and 5.1 surround sound quality. Supported by ads.
Max Ad Free: $15.99/month or $149.99/year. Includes 2 concurrent streams, 1080p resolution, 30 offline downloads, and 5.1 surround sound quality.
Max Ultimate Ad Free: $19.99/month or $199.99/year. Includes 4 concurrent streams, up to 4K UHD resolution, 100 offline downloads, and Dolby Atmos sound quality.
Warner Bros. says that existing HBO Max subscribers that subscribe through HBO will have access to Max at the same price as their HBO Max subscription, with more information available on the HBO Max website. Those who subscribe through a TV, mobile, or wireless provider will be informed of any price or plan changes.
"Max" is set to launch on May 23, and it will include HBO Max content and Discovery TV content such as HGTV, the Food Network, ID, TLC, and more. Alongside the launch of the service, Warner Bros. also announced a new Harry Potter television series as well as another Game of Thrones prequel show.
On some platforms, the HBO Max app will automatically be updated to the Max app, and on others, users will be prompted to download the Max app when attempting to open the HBO Max app. Discovery+ customers can sign up as new Max customers, as those subscriptions will not transition. Discovery+ will continue to be available as a standalone service.