Production of 15-Inch MacBook Air Components Underway, WWDC Launch Looking Likely
Panel production on the larger-screened 15-inch MacBook Air started in February and increased in March, with another ramp up planned for April, respected display analyst Ross Young said today in a tweet shared with subscribers. With production underway, Young said that he doesn't know the "precise launch timing" but assumes that it could happen in "late April/early May."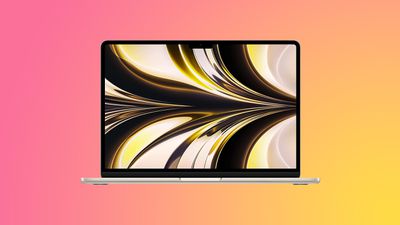 Young previously suggested that the 15-inch ‌MacBook Air‌ could launch in April, but his estimated launch timeline may be a little too early. At this point, it looks like a spring Apple event is not going to happen, and it seems unlikely that Apple would introduce a new iteration of the ‌MacBook Air‌ via press release.
With WWDC coming in less than two months, it perhaps makes the most sense for Apple to introduce the 15-inch ‌MacBook Air‌ at the Worldwide Developers Keynote on June 5, with a launch following shortly thereafter in June.
Either way, it sounds like a larger ‌MacBook Air‌ is coming in the first half of the year, with the machine set to join the 13.6-inch version. Rumors suggest that the ‌MacBook Air‌ could feature a 15.5-inch display, which would make it around the size of the now-discontinued 15.4-inch MacBook Pro. It would be sized between the 13.6-inch ‌MacBook Air‌ and the 16-inch MacBook Pro, giving those who want a slimmer, lighter, and more affordable machine with a larger display size an option that is not a "Pro" notebook.
Design wise, the 15-inch ‌MacBook Air‌ is expected to feature the same design as the current M2 model, which could also see a refresh alongside the new 15-inch version. Exactly which chip the ‌MacBook Air‌ will use remains to be seen, but it could include the current-generation ‌M2‌ and ‌M2‌ Pro chips, or the M3 chip series, if it is ready for launch by WWDC.
More information on Apple's plans for the 15-inch ‌MacBook Air‌ can be found in our 15-inch MacBook Air guide.