Nomad Launches 'Stand One' MagSafe Charger
Apple accessory company Nomad today announced the launch of the Stand One, a new charging product that is designed for MagSafe iPhones. The charger is equipped with an official Made for iPhone ‌MagSafe‌ charging puck, which is able to charge a MagSafe-compatible device at up to 15W.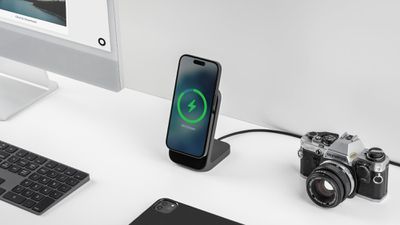 Nomad sent me a Stand One to take a look at ahead of launch, so I can share a more detailed overview with MacRumors readers. Like most of Nomad's products, the Stand One is a higher-end charger that prioritizes build quality, design, and aesthetics over affordability.
It is made from CNC-machined metal in silver or carbide, with glass over the front for a shiny, glossy look. Design wise, the Stand One looks great on a desk. It's slim, doesn't take up a lot of room, and is one of the more premium charging options that I've tested. For those who have used a Base One from Nomad, it has the same general look and feel.
With a glass faceplate, this charging stand does have the potential to pick up fingerprints, but as it's a desktop accessory, most people aren't going to be touching it on a regular basis. It weighs in at over a pound so it is sturdy and stable, plus there's a silicone material at the bottom for keeping it in position.


Nomad says the weight makes it stay anchored to the table, but honestly even at this weight you can pick up your phone in the wrong way and take the charger with it. You still need to do the little twist and pull motion when removing your ‌iPhone‌ from the charger, something that has to be done with basically any ‌MagSafe‌ charger. The weight is fine and makes it feel more premium, but I'm not sure it's adding anything functional.
The stand is using an official ‌MagSafe‌ charging puck so it charges identically to Apple's own ‌MagSafe‌ charger, and I saw no variation in speeds between the two when testing it. The charging puck is white and has the same soft texture as Apple's ‌MagSafe‌ charger. The angle of the stand is not adjustable and it is set at 21 degrees, which was fine for my purposes.


I used it positioned next to my computer for glancing over at my ‌iPhone‌ when needed to see incoming notifications. It's also an adequate viewing angle for videos, and it can be used in either portrait or landscape orientation depending on your preference. There is an integrated USB-C cable that has a braided design for durability, and while that's fine, I always prefer a cable that can be separated in case I want to swap to something that's not as long.
In this case, the cable is two meters, which is longer than I prefer with a setup where there's a power adapter on the desk or I'm using a hub, but I can't swap it out because it's integrated. The Stand One needs a 20W power adapter and it does not ship with one, which is an ongoing complaint that I have with Nomad products. Nomad sells a nice, compact 20W charger that I'm a fan of, but it's an extra $19.
While this is designed primarily for the ‌iPhone‌, it can also charge the MagSafe-enabled AirPods Pro 2. Charging standard AirPods or a non-MagSafe phone is not possible because the upright design requires a magnetic connection. This is a single device charger, so you can only charge one product at a time.


There is some underutilized space at the back of the Stand One where Nomad could have potentially integrated an AirPod charger to give it more utility, which would have made the price easier to swallow.
I have no complaints about this stand, except for the price. It's $109.95, which is a lot for a single device charger. That price gets you a higher build quality and a premium design, so if you're looking for an elevated charger that's not just another clunky plastic accessory, the Stand One is worth checking out. You can get it from Nomad's website starting today.