Pokémon GO Creator Niantic's New 'Peridot' Augmented Reality Pet Game Launching May 9
Augmented reality gaming company Niantic today announced that its newest title, Peridot, is set to launch on Tuesday, May 9. Peridot is a virtual pet game, in the theme of Tamagotchi.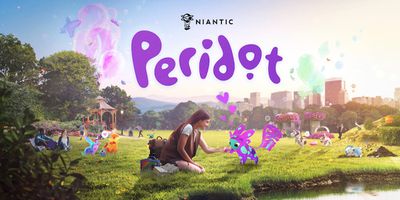 Like Niantic's other games, this is an augmented reality title that encourages you to take your pets for walks in the real world, where you can collect items, discover new places, and take photos. The game syncs with the Health app to allow players to earn walking distance when the app is closed.
Discover the fantastical world of Peridot, a real-world adventure pet game where you raise, care for, and breed one-of-a-kind adorable creatures. After thousands of years of slumber, Peridots are waking to a vastly different world than the one they lived in, and need our help to protect them from extinction. Develop an emotional connection with these creatures while exploring the world together as you raise them to adulthood and work with other players to re-diversify their species.
Players can raise a Peridot or "Dot" from birth, feeding them, playing with them, teaching them tricks, and otherwise meeting their needs to help them grow. In addition to exploring places in the real world and uncovering items, there is a breeding element that can unlock new Peridot archetypes.
Players can work together to expand the available Peridot species, and Niantic says there are "infinite possibilities of Peridot archetypes." The Dots themselves will be modeled after existing animals and mythological creatures, such as cheetahs, dragons, unicorns, and more.
Niantic first announced Peridot
last spring
, so the game has been in development for more than a year. Niantic is best known for its development of Pokémon GO, but the company also developed Ingress and the
now defunct
Harry Potter: Wizards Unite game that did not ultimately prove to be popular with users. Harry Potter: Wizards Unite was shut down on January 31, 2022.
iPhone and iPad users who are interested in Peridot can pre-register for it on the App Store as of today. The game is free to download, but there will be "Gemstones" as a purchasable in-app currency. [Direct Link]