Apple Dominates Top Ten Best-Selling Smartphones List for 2022
Apple was easily the most popular smartphone brand last year, with eight of its iPhone models featuring in a list of 10 best-selling smartphones.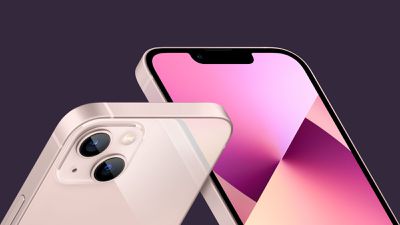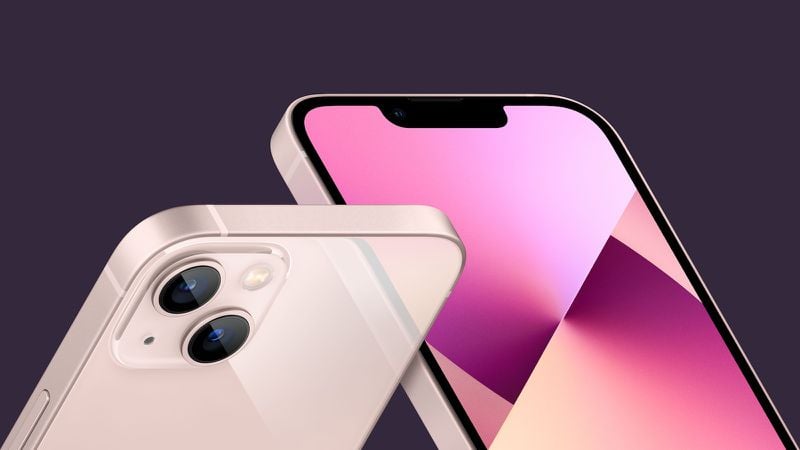 That's according to Counterpoint Research's Global Monthly Handset Model Sales Tracker, which establishes Apple as the first brand to occupy so many spots in its top 10. The remaining two spots were taken by Samsung.
According to the report, Apple's iPhone 13 was the best-selling smartphone of 2022, contributing 28% of ‌iPhone‌ sales and achieving best-selling smartphone status in major markets such as China, France, Germany, the United Kingdom, and the United States.
Counterpoint's data suggests that the ‌iPhone 13‌ remained the number one smartphone each month from its launch in September 2021 until August 2022, with price cuts after the launch of the iPhone 14 further driving ‌iPhone 13‌ sales in developing markets.
Compared to the ‌iPhone 13‌ Pro Max, which was the second best-selling smartphone of 2022, twice as many ‌iPhone 13‌ models were sold, underlining the device's broad popularity across markets. With reference to the ‌iPhone 14‌ Pro Max, the report notes that:
For the first time, a Pro Max variant of an ‌iPhone‌ series drove more volume than its Pro and base models in 2022. It helped the ‌iPhone 14‌ Pro Max to capture the third spot in the 2022 list. It was the top-selling smartphone model for September, October and November of 2022. The ‌iPhone 14‌ Pro Max sales were led by early adopters and those upgrading to a higher ‌iPhone‌ variant.
Elsewhere, robust sales in the U.S., Japan, and China saw the ‌iPhone‌ 12 – the best-selling smartphone of 2021 – hold sixth spot above the ‌iPhone 14‌ and ‌iPhone 14‌ Pro, despite being the oldest Apple handset in the list. The iPhone SE (2022) meanwhile took the tenth spot, with strong sales in Japan giving it a boost.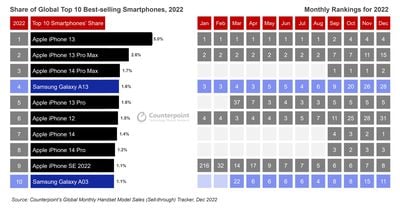 Lastly, Samsung's two spots on the list include its entry-level Galaxy A13 as the fourth best-selling smartphone, and the Galaxy A03, which rounded off the top 10. That's one more spot in the list than the Korean company achieved the previous year.

"We believe the share of the top 10 smartphones will increase in 2023 as brands focus on clearing inventory and optimizing their launches," said Counterpoint analysts Harshit Rastogi and Karn Chauhan. "We also expect brands to continue making their portfolios leaner in 2023 to minimize cannibalization. The number of active smartphone models in the global market has already fallen from over 4,200 in 2021 to around 3,600 in 2022."
In 2023, Apple continues to sell the ‌iPhone‌ 12 and ‌iPhone 13‌ alongside the ‌iPhone 14‌ series and the third-generation ‌iPhone SE‌, underlining the continuing popularity of its older models among new and returning customers.