Report: Apple's Struggle to Develop MicroLED Technology Led to iPhone X Changes and Reliance on Samsung
Apple has heavily invested in developing its own MicroLED technology for almost a decade to break away from Samsung as a supplier, The Information reports.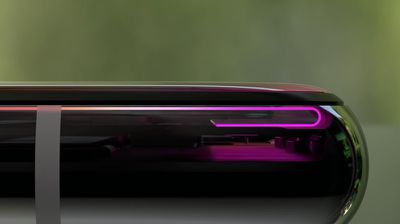 The iPhone X's flexible OLED display supplied by Samsung
Apple's MicroLED displays have reportedly taken much longer to develop than expected, forcing it to deepen its ties with Samsung until the technology is ready. MicroLED offers better durability, efficiency, brightness, dynamic range, and viewing angles compared to existing technologies like OLED.
Apple apparently planned to use MicroLED rather than OLED for 2017's ‌iPhone‌ X, but its high manufacturing cost and potential for defects led to the switch to the new display technology being pushed further down the pipeline. Apple still purportedly plans to introduce its first MicroLED displays on the Apple Watch next year, with the panels likely set to be supplied by LG and Sharp, rather than Samsung. The company originally planned to introduce the first Apple Watch with a MicroLED display this year, but it again faced difficulties bringing the technology to market.
Despite the launch of the first MicroLED Apple Watch next year, Apple employees are reportedly concerned that the next-generation display technology will not be ready for larger devices like the ‌iPhone‌ and iPad anytime soon. Some future Apple products, such as the mixed-reality headset and foldable ‌iPad‌, are set to be supplied by companies like Sony, LG, and BOE in an effort to break free of Samsung, but some devices like next year's OLED iPad models and high-end ‌iPhone‌ models will still be reliant on Samsung for the foreseeable future.
Apple has reportedly struggled to reduce its dependence on Samsung due to its manufacturing and technological edge, leading to an unusual relationship where Apple has less power than it does over other suppliers, having to settle for secretive practices, inferior quality, defects, and little visibility over the manufacturing process. Samsung is said to be highly distrustful of Apple, barring Apple engineers and security officials from its facilities, and often refuses to answer questions related to its technology.
The report goes on to cite numerous examples of Apple and Samsung's disagreements, such as when the Korean supplier reportedly refused to accept Apple's request to clean the iPhone 14 Pro's screens despite the presence of debris and residue caused by the process of making cutouts for the Dyanmic Island. Apple has apparently been forced to undertake intense testing of Samsung displays during product development to detect any defects or issues.