Apple Card's Savings Account Feature Nears Launch
Goldman Sachs this week updated its Apple Card Customer Agreement to provide additional clarity about the upcoming Daily Cash savings account feature. The changes in the agreement are minor, but suggest that the feature's launch is approaching.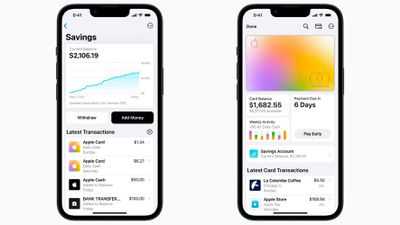 "The Daily Cash section of your Apple Card Customer Agreement has been updated to provide additional clarity related to making a Daily Cash Election and use of accrued but unredeemed Daily Cash," reads an email sent to Apple Card holders this week.
Apple first announced the savings account option in October and said it would be available "in the coming months," but the company has not commented on the plans since. The feature will allow Apple Card users to open a high-yield savings account from Apple's financial partner Goldman Sachs and earn interest on the Daily Cash deposited, with no fees, no minimum deposits, and no minimum balance requirements.
Like the Apple Card, the savings account will be managed through the Wallet app on the iPhone. Apple has yet to reveal what the account's APY will be, but Goldman Sachs' existing Marcus savings account currently starts at 3.75%.
The savings account was initially listed in the release notes for the iOS 16.1 Release Candidate, but it did not end up launching with that update and is still not available. Apple continues to lay the groundwork for the feature in iOS 16.4 beta code.
Apple's credit card launched in 2019 and remains available in the U.S. only.