iPhone 15 Pro Max Could Have Thinner Camera Bump and Smaller Footprint [Updated]
The iPhone 15 Pro Max will be thicker than its predecessor despite having a slightly reduced height and width, but it could offer a less protrusive camera rear array, according to newly shared CAD renders and dimensions.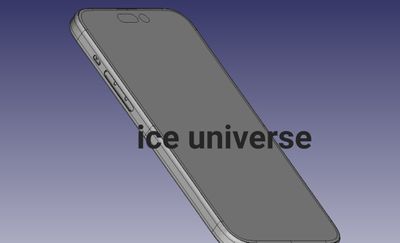 The leaker known as "Ice Universe," who has divulged accurate information about Apple's plans in the past, shared the latest CAD renders and specific dimensions in a series of tweets earlier today.
The renders broadly align with other reports about the design of the ‌iPhone 15 Pro‌ models, showing a new chassis with slightly curved edges. The rendering lines help to convey the added curvature in the new design, as well as the thickness of the bezels, which are expected to be reduced compared to the iPhone 14 Pro Max.
According to Ice Universe's dimensions, the ‌iPhone 15 Pro‌ Max's footprint is smaller both in terms of height and width compared to the ‌iPhone 14‌ Pro Max, but it is 5% thicker. The CAD renders and accompanying dimensions suggest that the ‌iPhone 15 Pro‌ Max will have a less protrusive camera bump than previously expected, being 0.59 mm shallower than that of the ‌iPhone 14‌ Pro Max.
| | ‌iPhone 14‌ Pro Max | ‌iPhone 15 Pro‌ Max | Change (+/-) |
| --- | --- | --- | --- |
| Height: | 160.7 mm | 159.86 mm | -0.84 mm |
| Width: | 77.6 mm | 76.73 mm | -0.87 mm |
| Depth: | 7.85 mm | 8.25 mm | +0.4 mm |
| Camera Depth: | 4.18 mm | 3.59 mm | -0.59 mm |
| Depth Including Camera: | 12.03 mm | 11.84 mm | -0.19 mm |
This means that while the iPhone, excluding the camera array, will ostensibly be 0.4 mm thicker than on the ‌iPhone 14‌ Pro Max, the device as a whole, including the camera, will be 0.19 mm thinner.
As with several other ‌iPhone 15 Pro‌ renders that have emerged, the volume and power buttons are missing, likely due to the fact that these devices are expected to make the switch to solid-state buttons this year.
The marginally reduced width of the ‌iPhone‌, combined with its curved edges, could make the device more comfortable to hold and the shallower camera bump could allow it to lie more stably on a surface. Overall, the dimensions indicate that the ‌iPhone 15 Pro‌ Max could differ from the design of its predecessor more than previously thought.
Update: Ice Universe has now shared artistic renders based on the above CADs and dimensions: