Apple Maps Now Offers Cycling Directions in Germany
Apple Maps now offers cycling navigation in Germany, allowing users across the country to receive turn-by-turn directions while riding a bike.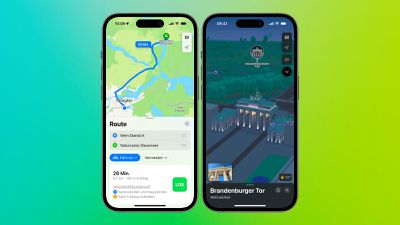 Apple Maps offers cycling directions along bike lanes, bike paths, and bike-friendly roads as much as possible, complete with details like elevation, how busy a street is, and whether there are stairs along a route. On the Apple Watch, voice guidance and haptic feedback make it easier for users to stay focused on the path ahead.
As noted by German blog Macerkopf, Apple Maps has also rolled out its "Detailed City Experience" to Berlin, Hamburg, and Munich. The revamped experience offers more detailed road markings, additional custom-designed 3D models of landmarks, and more.
Apple Maps cycling directions are also available across the United States, China, and Japan, as well as in select major cities around the world, such as London, Barcelona, and Toronto. Apple continues to play catch up with Google Maps, which began rolling out cycling directions in 2010 and now offers the feature in over 30 countries.
(Thanks, Daniel Marcinkowski and Mert Bulan!)