BitTorrent Client Transmission Gains Apple Silicon Support in Fourth Major Release
Popular old-school BitTorrent client Transmission is today celebrating its fourth major release, with a huge list of changes accompanying the update, including native Apple silicon support.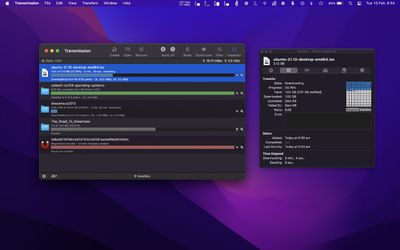 With Transmission 4, the client is no longer an Intel app that runs on Macs with M1 or M2 chips via Rosetta. It's now a universal binary, so it now runs natively on all Macs.
There are some UI design changes to match the latest version of macOS, and the developers have modernized the code by migrating from C90 to modern C++. Resource efficiency has also been improved, so the app now uses less memory and fewer CPU cycles.
New feature highlights include support for using BitTorrent v2 torrents and hybrid torrents, users can now set "default" trackers that can be used to announce all public torrents, and an option to omit potentially-identifying information (e.g. User-Agent and date created) when creating new torrents has been added.
Elsewhere, newly added seeds can now start immediately and verify pieces on demand, instead of needing a full verify before seeding can begin, and the web client has been rewritten to support mobile use. When creating new torrents, users can also now specify the piece size, and IPv6 blocklists are now supported.

"Transmission on macOS is a truly native and polished experience," reads the client's website. "This isn't some cross-platform app that treats macOS as an afterthought. With a sleek and simple interface, Transmission meets or exceeds Apple UI standards while using native features.

Transmission has one of the lowest memory and resource footprints of any major BitTorrent client. Its light overhead is one reason why it is so well suited for home NAS and media servers. Having been used by Western Digital, Zyxel and Belkin, Transmission gives truly impressive performance on almost any compatible hardware."
According to the developers, the open source, volunteer-based project is much more responsive to bug reports and code submissions than it has been in the past, with over 350 new community commits contributing to the release of Transmission 4.
Transmission 4 is available for macOS, Windows, and Linux, and can be downloaded for free from the Transmission website.