iPhone 14 Pro Over 20% Faster Than Samsung Galaxy S23 Ultra in Benchmarks
Samsung's newly announced Galaxy S23 Ultra hasn't quite hit the market yet, but unearthed benchmarks for the device suggest Apple still has the world's fastest mobile processor by a considerable margin.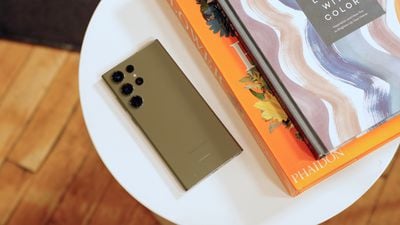 According to Geekbench scores for single-core performance discovered by CompareDial, the Galaxy S23 Ultra scored 1480, while its closest rival, the iPhone 14 Pro, achieved 1874. That suggests the ‌iPhone 14‌ Pro is 21.02% faster than the Galaxy S23 Ultra in single-core tests.
When it came to multi-core performance, the difference was smaller, but still considerable. The S23 Ultra recorded a score of 4584, compared to a score of 5384 for the ‌iPhone 14‌ Pro, indicating that Apple's flagship device is 14.86% faster in multi-core tests than Samsung's latest premium offering.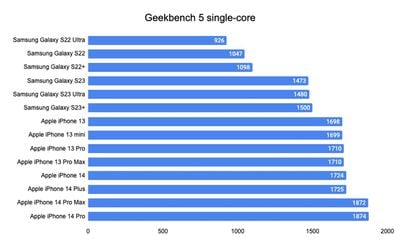 Samsung has traditionally struggled to keep up with Apple's mobile processor technology and the gap has widened in recent years. For example, last year's iPhone 13 beat the Galaxy S22's single- and multi-core performance even more comfortably, regardless of whether the Galaxy S22 was powered by Qualcomm's Snapdragon 8 Gen 1 chip (used in models sold in the US) or Samsung's Exynos 2200 chip (used in models sold in Europe).
The improvement in performance this year is largely down to the fact that Samsung has stopped using its inferior Exynos chips in the European market, with Qualcomm's faster, more power-efficient tech now being used for the Galaxy S23 in all markets.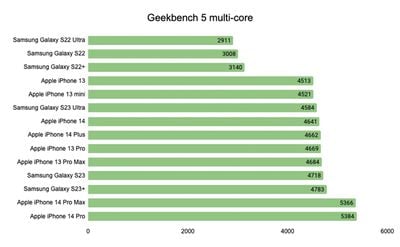 In around seven months' time though, Apple will look to extend its lead in performance with an even faster chip for the iPhone 15 series. The ‌iPhone 15‌ models could be the first to feature an A-series chip built on Apple supplier TSMC's next-generation 3-nanometer node. 3nm chip technology is expected to increase processing performance by 10-15%, while also reducing power consumption by up to 35%.
In the meantime, the Samsung Galaxy S23 series is available to pre-order now, with a general release scheduled for February, 17.