Camera Comparison: Apple's iPhone 14 Pro Max vs. OnePlus 11 5G
Chinese smartphone company OnePlus today announced the official debut of the OnePlus 11 5G, which is the company's latest flagship smartphone. The device was already announced in China, but today marks the global launch so we thought we'd compare the OnePlus 11 5G to the iPhone 14 Pro Max to see how the camera measures up.
Apple's ‌iPhone 14‌ Pro Max is equipped with an f/1.78 48-megapixel Wide lens that uses a Sony sensor, while the OnePlus 11 5G is equipped with an f/1.8 50-megapixel main camera that also uses a Sony sensor. Both smartphones include optical image stabilization, along with additional cameras.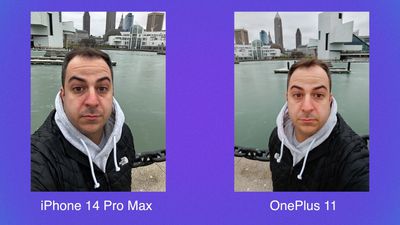 The OnePlus 11 5G has a 48-megapixel 115-degree ultra wide camera, while the ‌iPhone 14‌ Pro Max has a 12-megapixel 120-degree field of view camera. The ‌iPhone 14‌ Pro Max has the wider field of view, but it can't compete with the higher megapixel count on the OnePlus. Both devices support macro photos using their respective ultra wide lenses.


The OnePlus 11 5G has a more advanced telephoto lens in some ways, as it is equipped with a 32-megapixel portrait telephoto lens that uses Hasselblad technology, while the ‌iPhone 14‌ Pro Max is limited to a 12-megapixel telephoto lens. It is worth noting, though, that the OnePlus 11 is limited to 2x zoom, while the ‌iPhone 14‌ Pro Max supports 3x zoom. For those unfamiliar with the brand, Hasselblad is a Swedish camera maker that has been developing camera technology for OnePlus smartphones since the OnePlus 9.


OnePlus says that the device features DSLR-like depth tracking, natural bokeh, and light flare, simulating professional portraits captured by an actual Hasselblad camera. All three lenses are advertised as using Hasselblad color calibration for a more natural look, and OnePlus has also included a "13 channel multi-spectral sensor for light-color identifying," which is supposed to provide more accurate color and white balance.


As for camera quality, the telephoto lens produces portraits with excellent background lighting and blur, but there is a skin smoothing algorithm for people that can make images look unnatural. There's too much post-processing going on, which means side-by-side, the iPhone portrait pictures turn out more true to life.


With the standard camera in good lighting, you're not going to see much difference in image quality between the OnePlus 11 and the ‌iPhone 14‌ Pro Max, which is typical of smartphone cameras these days. Images are sharp and detailed, with a neutral color palette, but the ultra-wide lens trends toward yellow tones, while the telephoto lens is cooler, which ultimately means images can look inconsistent across the three cameras.


There are useful Hasselblad-designed filters that you can apply to photos, and there's a pro mode for DSLR-style customization. Night photos are fine, but nothing impressive, and the same goes for video. The ‌iPhone‌ definitely produces better quality video.


Other OnePlus 11 5G features include a 6.7-inch display with a 120Hz refresh rate, always-on display technology, the same Snapdragon 8 Gen 2 platform used in Samsung's latest S23 devices, up to 16GB RAM, 5G connectivity, Wi-Fi 7, and a 5,000mAh battery. It runs "OxygenOS," which is based on Android 13, and is available for pre-order starting today.


Make sure to check out the video to see the full camera comparison, and let us know what you think about the OnePlus 11 5G in the comments below.