Apple Preparing iOS 16.3.1 Update for iPhone as Wait for iOS 16.4 Beta Continues
Apple appears to be preparing an iOS 16.3.1 update for the iPhone, based on evidence of the software in our website's analytics logs this week. It's unclear when the update will be released, but it will likely be available at some point in February.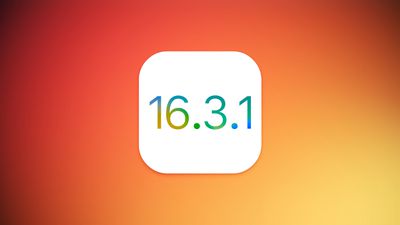 The same logs have accurately foreshadowed the release of several previous updates, including iOS 16.0.3 and iOS 16.1.1 most recently, so they have proven to be a reliable indicator of Apple's upcoming software releases. Minor updates like iOS 16.3.1 are typically focused on bug fixes, stability improvements, and security patches.
In the meantime, the wait continues for the first beta of iOS 16.4, which will likely be a more significant update with some new features. Previously-announced iOS features that have still yet to launch include Apple Pay Later for financing purchases, an Apple Card savings account option for Daily Cash, opt-in web push notifications via Safari, and more, but it's unclear if any of these features will be included in iOS 16.4.
Apple released iOS 16.3 in late January with support for physical security keys as a two-factor authentication option for Apple ID accounts, worldwide availability of Advanced Data Protection for expanded iCloud encryption, a new Black Unity wallpaper in celebration of Black History Month, Emergency SOS tweaks, and second-generation HomePod support.
Evidence of both iOS 16.4 and iOS 17 have also shown up in our website's analytics logs in recent weeks, as Apple employees test the updates internally. iOS 17 is expected to be announced at Apple's annual developers conference WWDC in June.