AirTag Helps Rescuers Find Dog Lost in California Flood
Apple's AirTag this week saved a dog that was swept away in California floodwaters, leading rescuers to his location. As reported by ABC7, one-year-old Australian shepherd Seamus fell into fast-moving storm drain after he got away from his owner during a walk.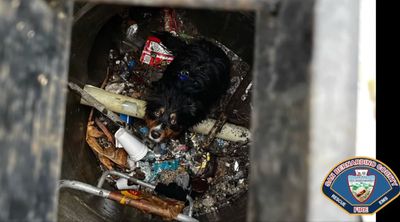 Seamus was swept into a flood control basin and quickly floated away from his owner, but he was eventually able to crawl out of an access tube. As Seamus had an AirTag on his collar, rescuers were able to locate his owners, and his owners were able to track his location.
The drainage network took Seamus approximately a mile away from where he started, and he was stuck at the bottom of the access tube. On its Facebook page, the San Bernardino County Fire Department said that both the Apple AirTag and the conventional ID tag "aided rescuers and owners in tracking the pup and reuniting them."
Apple created AirTags to track items, and the company does not recommend using them for tracking pets, children, or other living creatures because they require a nearby iPhone to be located and do not have their own built-in GPS tracking functionality. That has not stopped many pet owners from using ‌AirTags‌ on their animals, and there are a wide range of collars, harnesses, and other accessories for equipping a pet with an AirTag.