5 Things You Need to Know About M2 Pro and M2 Max
Apple this week expanded its lineup of Apple silicon chips with the new M2 Pro and M2 Max processors, building on the M2 chip announced in June. The new lineup of ‌M2‌ chips represents the second generation of Apple silicon that can now now be found in the latest Macs.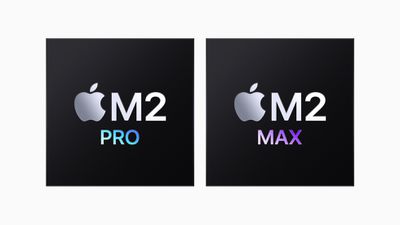 The ‌M2‌ Pro and ‌M2‌ Max are noteworthy upgrades over the M1 Pro and M1 Max, bringing more performance, battery life, and capabilities to professional users. Below, we've listed five of the most important details you need to know about Apple's latest Mac chips.

A Lot of Memory Bandwidth: The new ‌M2‌ Pro and ‌M2‌ Max chips feature the same memory bandwidth as their respective predecessor, which is some of the highest in the industry. Like the ‌M1 Pro‌, the ‌M2‌ Pro chip supports up to 200GB/s of memory bandwidth, while the ‌M2‌ Max supports 400GB/s of memory bandwidth like the ‌M1 Max‌.
Even Longer Battery Life: The ‌‌M1 Pro‌‌ and ‌‌M1 Max‌‌ have two high-efficiency cores, whereas the ‌‌M2‌‌ Pro and ‌‌M2‌‌ Max both feature four efficiency cores, allowing the new Macs to tackle heavy workloads using less energy, thereby conserving battery life.
Tons More Transistors: Thanks to the use of second-generation 5nm process technology, the ‌M2‌ Pro has 40 billion transistors, which is 20% more than the ‌M1 Pro‌. With ‌‌M2‌‌ Max, the jump is even bigger – its 67 billion transistors is 10 billion more than the number used in the ‌‌M1 Max‌‌.
Highest Unified Memory Yet in a MacBook Pro: 14-inch and 16-inch MacBook Pros configured with the high-end ‌‌M2‌‌ Max processor now support up to 96GB of unified memory. The 96GB of memory option is an additional $800, on top of the $200 extra for the higher-end variant of the ‌M2‌ Max chip.
Connect Even More Displays: 14-inch and 16-inch MacBook Pros and Mac mini models configured with ‌M2‌ Pro support up to two external displays. ‌M2‌ Pro supports two 6K displays over Thunderbolt, or one 6K display at 60Hz over Thunderbolt and one 4K display at 144Hz over HDMI. MacBook Pro models with ‌M2‌ Max support up to four displays: three displays with 6K resolution at 60Hz over Thunderbolt and one more 4K display at 144Hz over HDMI. ‌M2‌ Max also supports two 6K displays at 60Hz over Thunderbolt, and one 8K display at 60Hz or one 4K display at 240Hz over HDMI.
The new 14-inch and 16-inch MacBook Pro can be configured with both ‌M2‌ Pro and ‌M2‌ Max, while the updated ‌Mac mini‌ can be configured with either ‌M2‌ or ‌M2‌ Pro. Both the new MacBook Pro and ‌Mac mini‌ are available for pre-order on Apple's website and will begin arriving to customers on Tuesday, January 24.