Apple Expanding Sound Recognition Feature to New HomePod and HomePod Mini With Software Update Later This Year
The second-generation HomePod introduced today will offer a Sound Recognition feature that allows the speaker to detect smoke and carbon monoxide alarm sounds and send a notification to the user's iPhone if either of those sounds are identified.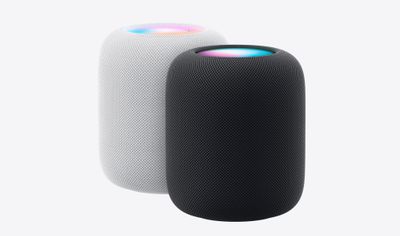 Apple says Sound Recognition will be available on both the new HomePod and the existing HomePod mini in a software update that will be released "later this spring," meaning the update should be available by June at the latest. It's unclear if the feature will also be rolled out to the first-generation HomePod released in 2018.
Apple warns that the feature should not be relied upon "in circumstances where users may be harmed or injured," or in "high-risk or emergency situations."
Sound Recognition on HomePods will require Apple's updated Home app architecture, which is temporarily unavailable after some users experienced issues after installing the update. It's not clear when the update will be made available again.
Sound Recognition was first introduced on the iPhone in 2020 and can detect a wide variety of sounds on that device, including a doorbell, running water, a baby crying, a car horn, a door knock, a cat meowing or dog barking, and more. Apple's announcement does not mention if HomePods will also be able to detect these other sounds, or if the feature will be limited to smoke and carbon monoxide alarms on the speakers.