Apple Honors Dr. Martin Luther King Jr. With Website Homepage Tribute
On Martin Luther King Jr. Day in the United States, Apple is paying tribute to the American civil rights movement leader with a full-page tribute on its website.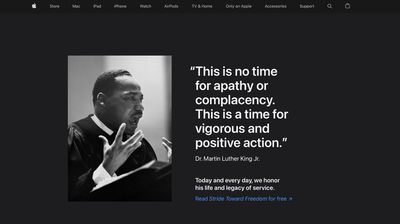 On the company's home page, a picture of King is shown alongside one of his quotes: "This is no time for apathy or complacency. This is a time for vigorous and positive action."
"Today and every day, we honor his life and legacy of service," Apple notes. Apple also includes a link to Apple Books, where users can read King's book Stride Toward Freedom for free. Apple CEO Tim Cook also paid tribute to King on Twitter today.
Dr. King said, "We must come to see that human progress never rolls in on the wheels of inevitability. It comes through the time and persistent work of dedicated individuals." Grateful to everyone carrying on the legacy of Dr. King and making a difference in their communities. pic.twitter.com/TKA0fniWVv — Tim Cook (@tim_cook) January 16, 2023