Apple Says Don't Buy AirTag Replacement Batteries With Bitter Coating
Since AirTags were just released earlier this year and are expected to have a year-long battery life, it may be some time yet before AirTag users need a replacement battery, but when the time comes for a refresh, Apple is warning customers not to buy batteries with a bitter coating.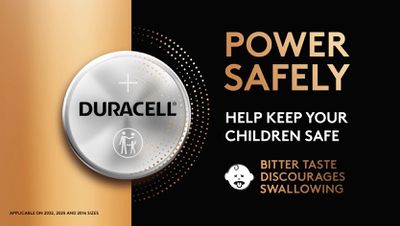 ‌AirTags‌ use coin-shaped CR2032 batteries, which happen to be a size that's easy to swallow. Some battery makers like Duracell have begun putting a bitter coating on CR2032 batteries to prevent children from eating them.
According to Duracell, hundreds of lithium coin batteries are accidentally swallowed by children each year, and these batteries can cause a harmful chemical reaction. The non-toxic bitter coating reacts with saliva and is meant to deter swallowing.
As The Loop points out, Apple's AirTag battery replacement support document that was published earlier this month specifically warns against bitterants and says that these coatings might cause the battery not to work.
CR2032 batteries with bitterant coatings might not work with AirTag or other battery-powered products, depending on the alignment of the coating in relation to the battery contacts.
The alignment of the coating in relation to the battery contacts is at issue, so to ensure the battery will work, AirTag users should buy replacement CR2032 batteries that do not have any kind of coating.
Apple's use of the CR2032 battery has been an issue in Australia, and some Australian retailers have refused to sell ‌AirTags‌ because of the easy access to the battery. The Australian Competition and Consumer Commission sent out a press release urging parents to keep ‌AirTags‌ out of the reach of children because of safety concerns about the "accessibility and security of the button battery inside the product."
The battery in the AirTag is accessible by pressing and twisting the accessory open, which the ACCC believes is simple enough for children to figure out. In addition to avoiding batteries with coatings, AirTag users should also make an effort to keep them away from kids.