Angry Birds Reloaded, Doodle God Universe and Alto's Odyssey: The Lost City Coming to Apple Arcade
Apple in April began adding classic games to its Apple Arcade catalog, and today, Apple announced three new games that are coming in the near future: Angry Birds Reloaded, Doodle God Universe, and Alto's Odyssey: The Lost City.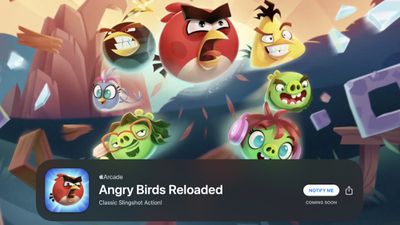 Apple announced the new games on Twitter today, and those interested in playing them when they launch on ‌Apple Arcade‌ can sign up to be notified. The three games will be available on iPhone, iPad, Mac, and Apple TV.
Angry Birds Reloaded builds on the original Angry Birds game, introducing new characters from the Angry Birds movie universe, a new game mode, new power ups, and all new levels.
Alto's Odyssey: The Lost City is an endless runner set in the desert, where the goal is to sail across dunes, canyons, and temples to unearth the secrets of the Lost City. The game offers simple tap controls that are easy to learn but tough to master, and players are tasked with building up combos and meeting goals.
In Doodle God Universe, players start out on an empty planet with four elements, and the goal is to combine these different elements to create hundreds of new elements to make the planet thrive and grow.
There's no word yet on exactly when these new games are launching, but as with all ‌Apple Arcade‌ titles, they will be available to ‌Apple Arcade‌ subscribers with no additional in-app purchases or fees. ‌Apple Arcade‌ is priced at $4.99 per month.
Other classic games that are now available on ‌Apple Arcade‌ include Fruit Ninja, Monument Valley, Threes, Mini Metro, The Oregon Trail, Cut the Rope, and more.