Apple Announces iCloud+, Combines Paid Storage With Privacy Features Like Hide My Email
At WWDC, Apple announced that iCloud is getting a premium subscription tier called "‌iCloud‌+," which includes "Private Relay" that allows users to browse the web through Safari with all information leaving their device remaining encrypted and access to "Hide My Email."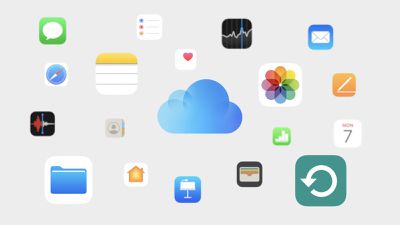 One of the headlining features for ‌iCloud‌+ is Private Relay, which, similarly to a VPN, ensures that all traffic leaving a device is fully encrypted, so no third party between the website and device can see the website being viewed.

Private Relay is a new internet privacy service that's built right into iCloud, allowing users to connect to and browse the web in a more secure and private way. When browsing with Safari, Private Relay ensures all traffic leaving a user's device is encrypted, so no one between the user and the website they are visiting can access and read it, not even Apple or the user's network provider. All the user's requests are then sent through two separate internet relays. The first assigns the user an anonymous IP address that maps to their region but not their actual location. The second decrypts the web address they want to visit and forwards them to their destination. This separation of information protects the user's privacy because no single entity can identify both who a user is and which sites they visit.
Also part of ‌iCloud‌+ is Hide My Email, which builds on the idea of Sign in With Apple by providing users a random email address that forwards to their personal email. Users can use Hide My Email directly in Safari, ‌iCloud‌ settings, and more.


Expanding on the capabilities of Sign in with Apple, Hide My Email lets users share unique, random email addresses that forward to their personal inbox anytime they wish to keep their personal email address private. Built directly into Safari, iCloud settings, and Mail, Hide My Email also enables users to create and delete as many addresses as needed at any time, helping give users control of who is able to contact them.
The last feature part of ‌iCloud‌+ is support for HomeKit Secure Video, which provides end-to-end encryption for home security footage that won't count against a user's ‌iCloud‌ storage space.

iCloud+ expands built-in support for HomeKit Secure Video, so users can connect more cameras than ever before in the Home app, while giving them end-to-end encrypted storage for home security video footage that will not count against their storage capacity. HomeKit Secure Video also ensures that activity detected by users' security cameras is analyzed and encrypted by their Apple devices at home before being securely stored in iCloud.
‌iCloud‌+ will be offered to ‌iCloud‌ users at no additional cost, starting as normal with 50GB of storage for $0.99 per month, with the ability to add one ‌HomeKit Secure Video‌ Camera and up to 2TB of storage with unlimited secure video cameras for $9.99 per month.