Apple Shares Worksheet With 30 iPad Activities for Kids
Apple's education team today debuted 30 activities for kids and families to do as part of an ongoing effort to support at-home learning while many schoolchildren are completing classes remotely.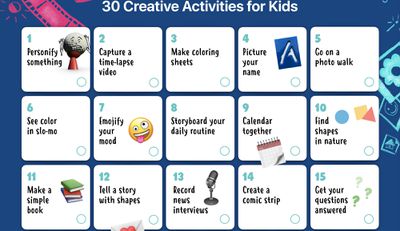 Available as a PDF that can be downloaded or printed, the suggestions include a wide range of activities that can be done using the built-in features of an iPad or iPhone.
Some of the activities include capturing a time-lapse video, going on a photo walk, recording a news interview, personalizing a portrait, seeing color in slo-mo video, and emojifying a mood. The PDF features a different activity for each number, each of which can be clicked for an activity description. For the photo walk activity, for example:
Pick a color or letter of the day and take photos around the house and yard of things that are that color or start with that letter. Then put them together in a collage or video. Try to make a rainbow or complete the alphabet!

Get started: Add the photos of each color or letter to a slide in the Keynote app. Or add each photo to Clips and record your voice saying the colors or letters.
According to Apple, these activities are aimed at children from pre-kindergarten to second grade, but can be tailored to suit the whole family.
Apple has also been supporting at-home education with a series of remote learning videos that are designed to help schools and educators use the built-in features of their devices to enable remote learning.