macOS Catalina Causes Issues for DJs Who Used iTunes With XML File Support
macOS Catalina eliminates the iTunes app in favor of new Music, TV, and Podcasts apps, but the lack of iTunes will impact DJs who relied on the software, reports The Verge.
Along with nixing iTunes, Apple is removing support for the method many DJ app developers had been using to access XML playlist files that let users access their iTunes music libraries.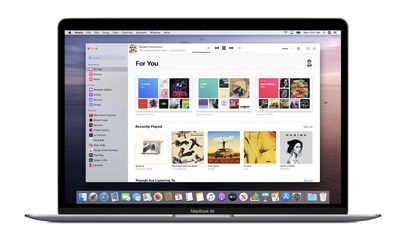 DJs use XML file support to sort tracks into playlists and use iTunes' "Share iTunes Library XML with other applications" to transfer data between apps. The new Music app, though, uses a new, more modern library format that isn't compatible with XML.
Developers still have access to frameworks for accessing Music on the Mac, but XML file support is no longer available in macOS Catalina and developers need to update their apps to take advantage of the new methods that are compatible with music libraries on the Mac. Many DJ app developers are in the process of doing so, but customers using an XML app that is not supported should continue to use macOS Mojave until developer updates are implemented.
We spoke with Michael Simmons of Algoriddim, the developer behind the djay Pro apps, and he provided us with more insight into the issue, pointing to a previous report outlining how Apple launched an official SDK for delivering programmatic access to users' music libraries with the launch of iTunes 11 a number of years ago. Apps like djay Pro that previously transitioned to the SDK will have no problems continuing to integrate with Music libraries in macOS Catalina.
App developers who have continued to rely on the earlier undocumented XML integration and have not updated in time will find that their users will be unable to access their Music libraries after upgrading to Catalina. Companies like Serato and Native Instruments have warned their users not to upgrade to macOS Catalina yet, although Native Instruments has a public beta of its Traktor Pro app available that will support Catalina.