Apple Launches Apple News+ in the UK and Australia
Apple News+, Apple's subscription news and magazine service, has launched for users who live in the UK and Australia, Apple announced today.
‌Apple News‌+ subscribers can access more than 150 publications in ‌Apple News‌+, with a one month free trial available to test the service before having to pay the £9.99 (UK) or $14.99 (Australia) monthly fee.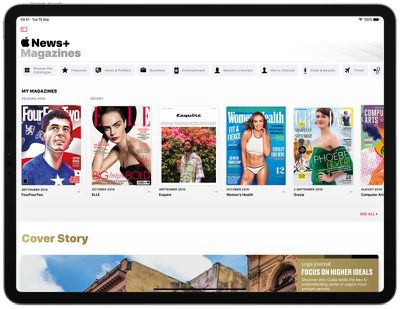 Available magazines and publications in the UK include The Times and The Sunday Times, Cosmopolitan UK, Elle UK, Esquire UK, FourFourTwo, Empire, Hello!, Cyclist and Grazia, plus US-based newspapers and magazines like The Wall Street Journal, Bloomberg Businessweek, National Geographic, Rolling Stone, Vox and more.
Magazines and publications in Australia include The Australian, The Daily Telegraph, Herald Sun, The Courier Mail, The Advertiser, Vogue, Australian Women's Health, Elle, The Australian Women's Weekly, Harper's Bazaar Australia, GQ, Australian Men's Health, Delicious and Australian Geographic, plus US and UK-based newspapers and magazines.
‌Apple News‌+ has been available in the United States and Canada since March, and it is designed to present magazine and news content in a media rich format on iPhone and iPad. Apple said that ‌Apple News‌+ would come to the UK and Australia as part of iOS 13, though it is also available for those using iOS 12.2 or later and those using macOS 10.14.4 and later.
‌Apple News‌+ was built using Texture, a now-discontinued magazine subscription service that Apple purchased in 2018. It has thus far received some criticism for its formatting (not all publications support Apple's media rich format) and for its confusing interface, though some improvements have been made since the U.S. launch.
For more on ‌Apple News‌+, make sure to check out our Apple News+ guide.