What's New in iOS 13.1 Beta 1: Share ETA and Shortcuts Automations Return, Plus More
Apple today released a surprise iOS 13.1 beta, which is unprecedented as the company has never before released a point update for an unreleased software update.
iOS 13.1 was not a mistake, though, and it appears to be an update that Apple will debut shortly after the release of iOS 13, necessitating developer testing now. iOS 13.1 includes new features and brings back some features that were removed from the iOS 13 update over the beta testing period.
- Shortcuts Automations - Automations, a Shortcuts feature removed in iOS 13, has returned in iOS 13.1. With Automations, you can create personal and home automations from the Shortcuts app to have certain actions performed when specific conditions occur.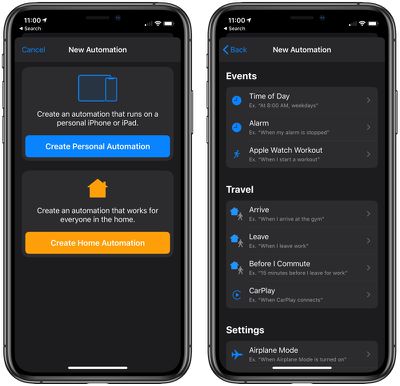 - Share ETA - Share ETA has returned to the Maps app, allowing users to share their estimated time of arrival with a friend or family member once directions to a specific place have been entered.


- Dynamic Wallpapers - Apple has made some tweaks to the available dynamic wallpapers, shifting the overall look and color of some of them. The Dynamic wallpapers previously limited to the iPhone X and later are also now available on older devices.
- AirPods Volume Indicator - When adjusting the volume of your ‌iPhone‌ with AirPods connected, you'll see an AirPods icon on the volume bar. This also works for Powerbeats Pro, HomePod, and other Beats headphones, plus there's a special person icon when you have two sets of headphones connected to an ‌iPhone‌ or iPad (an iOS 13 feature).


- New HomeKit Icons - ‌HomeKit‌ devices in the Home app have updated, more detailed icons in iOS 13 beta 1. These same icons were added to the most recent macOS Catalina beta.


- Mouse Support Improvements - According to developer Steve Troughton-Smith, it's now possible to map the right click function of a mouse to the 3D Touch/long press action on an iOS device. Mouse support in iOS 13 and iPadOS is available as an accessibility option.
- TestFlight Indicator - Apps that you have installed via Apple's TestFlight app (aka apps in beta) are now denoted with a bright yellow dot next to them that's easier to see than before.


- HEVC Improvements - According to Jeremy Horwitz, iOS 13.1 adds HEVC video encoding with alpha channels for easier green screen-style compositing.
- Fonts - iOS 13 has a feature for downloading and installing fonts from the App Store. In iOS 13 beta 1, when opening up General > Fonts, there's new text that directs users to the ‌App Store‌. There are no fonts apps yet, but presumably in the future this option will link to specific apps for fonts.
- Reading Goals - In the Settings app under Books, there's a new toggle to make the iOS 13 reading goals feature include time spent reading PDFs.
- Nike - In the Apple Watch app on the ‌iPhone‌, Nike+ Run Club is now just "Nike Run Club," suggesting Nike and Apple are dropping the "+" branding.
Apple Watch App - In the Apple Watch app on ‌iPhone‌, Display & Text Size has been renamed to Display & Brightness.
Apple Maps Collections - When deleting a collection from ‌Apple Maps‌, Apple will now confirm that you want to delete it before removing it.


Know of a feature that's new in iOS 13 beta 1 that we left out? Make sure to let us know in the comments and we'll update this article.
Steve Moser contributed to this report.