Adobe Tests Doubling the Price of Photography Plan With Photoshop and Lightroom
Adobe today quietly debuted new pricing for its Photography bundle, which has long been available for $9.99 per month. Starting today, Adobe's website is listing a price tag of $19.99 per month, which is double the previous price.
The bundle includes access to Photoshop CC, Lightroom CC, and Lightroom Classic, and is aimed at photographers. In a statement provided to PetaPixel, Adobe said that it is testing new pricing tiers.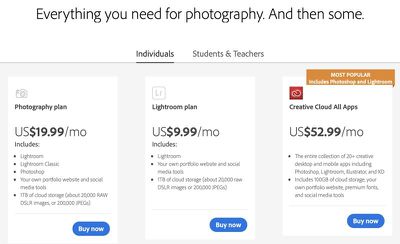 "From time to time, we run tests on Adobe.com which cover a range of items, including plan options that may or may not be presented to all visitors to Adobe.com. We are currently running a number of tests on Adobe.com."
Most users appear to be seeing the updated pricing on the Adobe website, but there is a hidden section of the site where one can still purchase the Photography plan for $9.99 per month.
The new plan does offer 1TB of storage instead of 20GB of storage, but for those who do not use Adobe storage, the new pricing doubles the cost with no added benefit.
It is not clear if Adobe is planning permanent pricing changes for its Photography plan or if prices are going to change for existing subscribers in the future. If you previously signed up for the Photography option, you're likely paying $9.99 per month at the current time.
Adobe offers other plans, pricing a single app at $20.99 and access to all apps at $52.99 per month, but it has offered the lower-cost $9.99 per month Photography plan option since 2013.