The popularity of OLED smartphones with in-display fingerprint sensors will continue to gather pace in 2019, DigiTimes reports this morning, despite Apple's decision to move away from the technology in favor of face recognition.
Citing industry sources, the report says that rising popularity for fingerprint scanners in smartphone screens is being driven by a reduction in sensor prices and the price gap between OLED and LCD panels.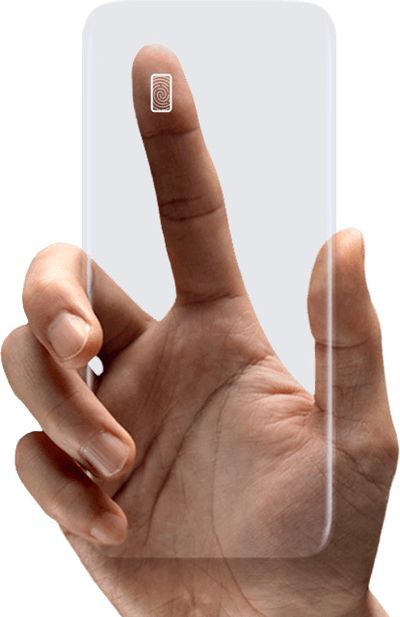 The market size of OLED panels with in-display fingerprint sensors has expanded significantly as handset vendors including Samsung Electronics, Huawei, Xiaomi, Oppo and Vivo have extended the adoption of in-display fingerprint sensing technology from the premium smartphones to mid-range models, said the sources.

The introduction of optical fingerprint sensing solutions by vendors including Synaptics and Goodix Technology in 2018, which came with more competitive pricing and fitted with the prevailing all-screen display design for smartphones, has helped bring down overall prices of in-display fingerprint sensor chips and therefore further drive up the popularity of such a technology, said the sources.
Apple was widely rumored to be attempting to integrate Touch ID under the display on the iPhone X, but the company's hardware engineering chief Dan Riccio later said it ditched any form of fingerprint scanning after hitting "early line of sight" with Face ID.
Apple has since done away with fingerprint recognition entirely in its flagship smartphone lineup, which includes the ‌iPhone‌ XS, ‌iPhone‌ XS Max, and LCD-based ‌iPhone‌ XR. All have a notch at the top of the screen housing the TrueDepth sensing camera in lieu of a Home button, which contains ‌Touch ID‌'s focused capacitive drive ring in earlier iPhones. Apple's latest iPad Pro models have also inherited Apple's cutting edge face-recognition tech.
Apple's biggest rival, Samsung, includes an ultrasonic fingerprint scanner embedded into the screen of its latest Galaxy S10 smartphone. Samsung's tech uses sound waves to create an intricate 3D map of the user's fingerprint. The Galaxy S10e meanwhile uses an electrostatic fingerprint scanner on the Power button.
Apple has explored various in-display fingerprint scanner solutions in the past, including fingerprint sensing MicroLED displays. So far, Apple has not developed in-screen fingerprint technology for a consumer device, while ‌Touch ID‌ has found a new lease of life on laptop keyboards, specifically in Apple's MacBook Pro with Touch Bar range and the latest MacBook Air.