Apple Paid an Estimated $5-$6 Billion to Settle Qualcomm Dispute, Plus $8-$9 Per iPhone in Royalty Fees
Apple likely paid somewhere around $5 to $6 billion to settle its ongoing legal battle with Qualcomm, according to estimates shared today by UBS analyst Timothy Arcuri (via CNBC).
The $5 to $6 billion payment would have been for royalty fees that Apple had stopped paying over the course of its two year legal fight with Qualcomm.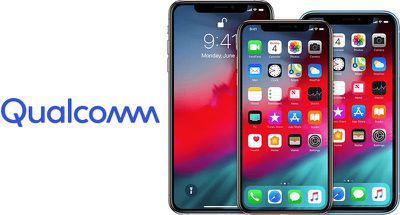 Qualcomm may also be receiving between $8 and $9 per iPhone from Apple in ongoing patent royalties, a figure calculated based on guidance numbers that Qualcomm provided following the settlement. Qualcomm said that it expects its earnings per share to increase by $2.
Apple previously paid $7.50 in royalties, so at $8 to $9 per ‌iPhone‌, Apple would be shelling out more cash than it did before.
Apple appears to have had no alternative but to settle with Qualcomm, as it had no other way to source 5G chips for its 2020 ‌iPhone‌ lineup. Apple initially planned to use Intel chips, but rumors suggested Intel wasn't meeting development goals, leading to tension between Apple and Intel.
Just hours after Apple and Qualcomm announced a settlement deal, Intel said that it was exiting the 5G smartphone modem business and would not be making 5G smartphone chips at all.
It's not entirely clear if Apple settled with Qualcomm because it knew of Intel's plan to abandon 5G chip development or if Intel made the decision after learning of Apple's settlement plans, but either way, it leaves Apple with no choice but to re-adopt Qualcomm chips for future iPhones.
Smartphone makers like Samsung will have 5G smartphones available starting this year, so Apple could not afford to delay the rollout of its 5G iPhones. Launching in 2020 already puts Apple somewhat behind, but 5G networks from U.S. carriers are still very much in development.
Following news of the settlement, Qualcomm's stock has gone up over 38 percent, marking a big win for the San Diego company. The agreement includes a six-year licensing deal along with a "multiyear chipset supply agreement."
It sounds like Apple will need to rely on Qualcomm for the foreseeable future, but Apple is working on its own modem chip technology, which may eventually allow it to drop Qualcomm as a modem chip supplier.