Apple's Plans to Release 5G iPhone in 2020 Could Be Stymied by Intel Delays
Intel is having trouble meeting deadlines for the XMM 8160 5G modem that Apple is counting on to add 5G connectivity to its 2020 iPhone lineup, reports Fast Company.
Citing a source with knowledge of Intel and Apple's relationship, Fast Company says that Intel has been missing developmental deadlines on the 5G chip, leading Apple to lose confidence in Intel.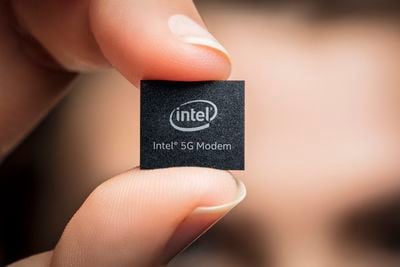 For a September 2020 launch, sample chips need to be provided to Apple this summer, and a finished modem design needs to be available by the beginning of 2020. Intel has said its chips will be in mobile devices by 2020, and has plans to ship the 8160 5G chip in the second half of 2019, but it's not clear if it will make those target dates.
Apple began using Intel chips alongside Qualcomm chips with the launch of the ‌iPhone‌ 7 and ‌iPhone‌ 7 Plus, and in 2018, Intel was Apple's exclusive LTE chip supplier for the ‌iPhone‌ XR, XS, and XS Max following Apple's legal woes with Qualcomm.
Rumors have suggested that Apple is planning to introduce 5G connectivity in the ‌iPhone‌ in 2020 and is relying on Intel's chips to do so.
Intel and Apple's relationship is said to be tense, and on the Intel side, there have already been three project managers overseeing the development of the modem. Apple has been holding talks with Samsung and Mediatek about supplying modem chips in the near term, but neither company may have chips ready for 2020.
Fast Company's source says that it would make the most business sense for Apple to go back to Qualcomm, but given the ever-increasing legal tensions between the two companies, that seems unlikely.
Apple is preparing to develop its own modem chips in house so that it doesn't need to rely on either Intel or Qualcomm, but those chips are not going to be ready in time for a 2020 5G iPhone launch.