Apple Sued Over Swollen Batteries in Apple Watches
New Jersey resident Gina Priano-Keyser has filed a proposed class action lawsuit against Apple this week in U.S. district court, accusing the company of fraudulent business practices and breach of warranty related to the Apple Watch, according to court documents accessed by MacRumors.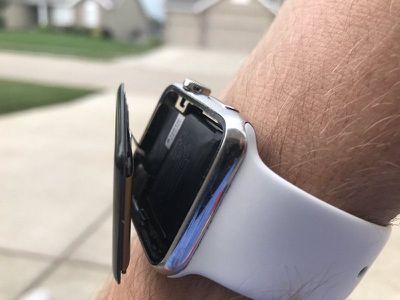 Apple Watch with display popped off and swollen battery via Shawn Miller
Priano-Keyser alleges that all Apple Watches up to and including Series 4 models are prone to a defect that results in the lithium-ion battery swelling and causing the screen to "crack, shatter, or detach from the body" of the watch "through no fault of the wearer, oftentimes only days or weeks after purchase."
The plaintiff believes that Apple either knew or should have known that the Apple Watch models were defective before selling them, adding that they pose "a significant safety hazard to consumers" — a "number" of which have suffered "cuts and burns" as a result of the scratched, shattered, or detached screens.
Apple has acknowledged the possibility of swollen batteries in select Apple Watch models in the past, and offered free repairs up to three years after purchase. However, the complaint alleges that the company often attributes the issue to "accidental damage" and thus "refuses to cover repairs" under warranty.
Priano-Keyser states that she purchased an Apple Watch Series 3 in October 2017. In July 2018, while charging, she alleges that the screen "unexpectedly detached" from the watch's body and cracked. Her daughter "pushed the screen back into place," but the Apple Watch has been "unusable" ever since.
The plaintiff booked a Genius Bar appointment in August 2018, but upon inspection, she alleges that Apple denied to repair the Apple Watch free of charge under warranty and instead quoted her an out-of-warranty fee of $229 for service.

The plaintiff's damaged Apple Watch Series 3
The complaint cites over a dozen similar experiences described by users on the Apple Support Communities over the past few years.
Priano-Keyser is seeking damages in an amount to be proven at trial for herself and all others similarly situated. The proposed class includes all residents of New Jersey who are current and former owners of all models and sizes of the Apple Watch Series 1, Series 2, and Series 3 purchased in New Jersey.
The complaint was filed by Shepherd, Finkelman, Miller & Shah, LLP, the same law firm that filed a nearly identical class action lawsuit regarding the swollen Apple Watch batteries in California back in June 2018. That case was tossed by U.S. District Judge Lucy Koh in January due to being "vague."
"Plaintiff's description of the alleged defect identifies only the consequences of the alleged defect (i.e., cracking, shattering, or detaching), but is notably silent on identifying the defect that causes such consequences," Judge Koh stated.
The lawsuit in New Jersey addresses this by attempting to identify a cause.
"Upon information and belief, the Defect is caused by aging or otherwise faulty li-on batteries, or by defective internal components of the Watches that regulate temperature, electrical currents, charging, and other mechanisms that could affect the Watches' li-on batteries," the complaint states.
It remains to be seen if the New Jersey case proceeds to trial or is also tossed.
Full complaint is embedded after the break…