Class Action Lawsuit: Apple Watches Have Defective Displays That Can Spontaneously Detach
A new class action lawsuit filed against Apple this week alleges that all Apple Watch models suffer from a defect that causes the display to "crack, shatter, or detach from the body of the watch, through no fault of the wearer."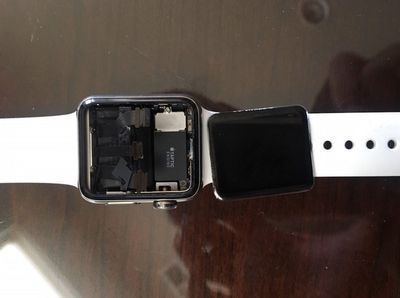 The proposed class is all current and former owners of all models, sizes, and variants of the Apple Watch, including the original, Series 1, Series 2, and Series 3 generations, purchased in the United States between April 2015 and present, according to court documents obtained by MacRumors.
The complaint, filed in Northern California district court, alleges that Apple has sold millions of watches with the defect throughout the United States, and "either knew, or should have known," about the display issues. Apple is said to have "actively concealed" and "failed to disclose" the defect to customers.
The complaint adds that Apple's internal policy is to "deny the existence of the defect, claim the defect is the result of accidental damage caused by consumers, and then refuse to honor its limited warranty on those grounds," resulting in customers facing expensive fees to repair or replace their defective watches.
Apple Watch out-of-warranty service fees range from $229 to $329 in the United States, excluding high-end Edition models.
The lawsuit was brought against Apple by Colorado resident Kenneth Sciacca, who purchased an Apple Watch Series 2 in December 2016. In or around March 2018, the screen on Sciacca's watch is said to have "unexpectedly detached from the watch's body shortly after he removed the watch from its charger."
The complaint cites a handful of comments from the Apple Support Communities, and similar complaints can be found scattered across the MacRumors forums, Reddit, Twitter, and other discussion platforms.
Apple has acknowledged issues with swollen batteries in select original and Series 2 models, which can cause the display to pop off, and offered free repairs up to three years after purchase, according to internal guidelines previously obtained by MacRumors. However, the complaint alleges that Apple refuses to extend the free repairs to watches with detached displays but no swollen battery.
Apple is accused of unlawful business acts and practices, in violation of California's Business and Professions Code, in addition to violating California's Consumers Legal Remedies Act and the Magnuson-Moss Warranty Act, breaching express and implied warranties, and unjust enrichment.
The complaint is seeking damages to fully compensate affected Apple Watch owners for all losses sustained as a result of the alleged defect, plus further relief as seen fit by the court. A jury trial has been demanded.