AirPods 2 Now Available for In-Store Pickup
Apple's updated second-generation AirPods began arriving to customers around the world this morning, marking the official launch of the new earbuds.
The new AirPods have also made their way into stores and are available for in-store pickup. Many stores across the United States appear to have immediate availability of the AirPods, so if you want a set, you can pop into a retail location and get them today.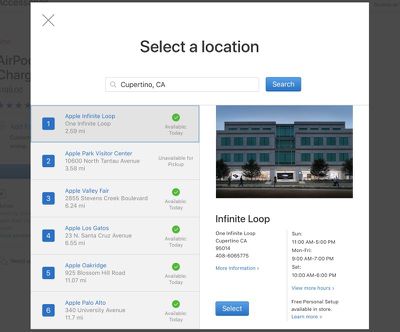 It's not clear how much available supply there is, but almost are stores are listing stock at the current time.
Retail stores are stocking the AirPods 2 with Wireless Charging Case ($199), AirPods 2 with standard Charging Case ($159), and the standalone Wireless Charging Case ($79) that adds wireless charging capabilities to your existing AirPods.
Apple's second-generation AirPods continue to be available solely in white, and there were no design changes introduced with the update. The AirPods are equipped with an updated H1 chip, which brings connectivity improvements. AirPods now connect more quickly to your devices, and swapping between devices is two times faster.
Bluetooth 5.0 is supported for improved range, and the new AirPods have a hands-free "Hey Siri" feature so you no longer need to activate ‌Siri‌ by tapping on one of the earbuds (though this option still exists).
The major new feature with the AirPods 2 is of course wireless charging, which, with the Wireless Charging Case allows the AirPods and case to be charged using any Qi-based wireless charging option. When the long-awaited and still missing AirPower is released, the new AirPods Wireless Charging Case will be required to charge AirPods with the accessory.