LG recently debuted a new 32UL950 32-inch UltraFine 4K display, but this latest model, priced at $1300, wasn't designed in partnership with Apple.
It still shares quite a few design similarities with prior UltraFine models, though, so we thought we'd check it out in our latest YouTube video to see whether it's a solid option for the purchase price.
The LG 32UL950 UltraFine Display features a black front panel with slim bezels and a curved base with a plastic monitor arm. It's tilt and height adjustable, so you can get it into the perfect position, and it can even be used in portrait orientation.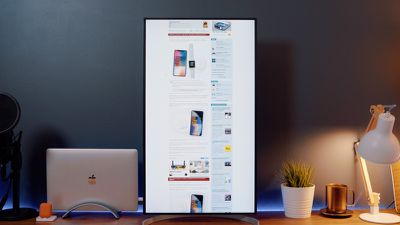 As with many LG displays, it's VESA compatible so you can mount it on the wall to save desk space. It is equipped with two USB-C Thunderbolt 3 ports, which can be used for fast data transfer, 60W charging for your MacBook, and daisychaining an additional 4K monitor if desired. There are also two USB-A ports, a DisplayPort, an HDMI port, a 3.5mm headphone jack, and built-in speakers.


The 4K display of the LG 32UL950 UltraFine is great, with crisp, detailed images and sharp text, though it's not quite as nice as the 5K UltraFine that LG offers in partnership with Apple.
This is a 32-inch display, but it's not ultrawide, and it has a resolution of 3840 x 2160 at 60Hz. Running this display at full resolution makes the on-screen elements quite small, so buyers might want to use it at 3360 x 1890 or 3200 x 1800 instead. Other display features include HDR and DCI-P3 support for excellent contrast and color.


For content creation or digital media, the LG 32UL950 is a solid choice, but it's not the greatest for gaming because it maxes out at 60Hz. It does support Radeon FreeSync and Dynamic Action Sync, though.
LG charges $1300 for the display, but it's available on Amazon at a cheaper price of $1100. That still makes it more expensive than LG's 5K monitor, so it's not going to be for everyone.
Make sure to watch our video up above for a closer look at LG's new UltraFine display, and let us know what you think of it in the comments below.