AirPods With Wireless Charging Case Delivery Date Slips to April
Just hours after Apple unveiled new second-generation AirPods with "Hey Siri" support and a new Wireless Charging Case, they've started selling out.
At launch, Apple listed a U.S. delivery date of March 27 to March 29 for the new $199 AirPods paired with the Wireless Charging Case, but now, those delivery estimates have slipped to April 2 to April 5.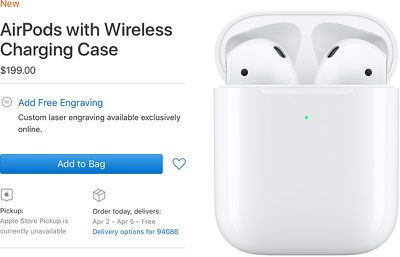 The $159 second-generation AirPods with a standard Charging Case continue to be available for March 27 to March 29 delivery, as does the standalone $79 Wireless Charging Case Apple introduced for current AirPods owners.
Those who want to pick up the new AirPods with Wireless Charging Case should do so soon, as historically, Apple has had trouble keeping its AirPods in stock due to high demand.
We may soon see these delivery estimates slip even further into April.
Apple's new second-generation AirPods do not bring exciting new features that were rumored like a new black color and health updates, but they're a solid upgrade over the previous version.
There's a new H1 wireless chip inside that powers hands-free "Hey ‌Siri‌" functionality so you don't need to tap to access the voice assistant.
Your AirPods are able to switch between devices two times faster when playing music, and there's an extra hour of talk time, bringing total talk time to three hours.
The new Wireless Charging Case allows the AirPods to charge using Qi-based wireless charging accessories, and it perhaps heralds the upcoming launch of the AirPower.


Apple is designing its own wireless charging mat meant to charge AirPods, the iPhone, and the Apple Watch all at once, but it's not yet entirely clear when it will launch given the many delays since its 2017 introduction.
In the meantime, with no ‌AirPower‌, AirPods can charge on any Qi-based accessory that you might already have for your ‌iPhone‌.
Apple will likely have some stock of the new AirPods models in its retail stores next week for those who were unable to order and receive a March delivery date. If you order online, though, you can get your AirPods case engraved, a feature new to the second-generation model.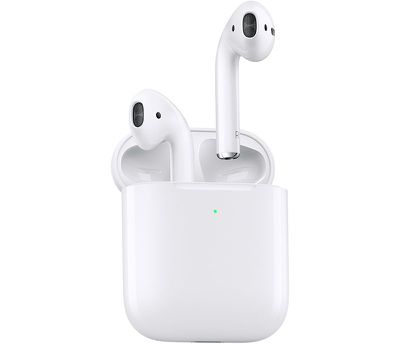 We expect AirPods to be in stores right around March 25. The new AirPods require iOS 12.2, watchOS 5.2, and macOS Mojave 10.14.4, all of which are in beta testing right now. Those releases are expected on March 25, so AirPods could be in stores soon afterwards.
We're giving away a pair of AirPods to one lucky MacRumors reader, and you can enter to win in our AirPods roundup.