Apple Courting Publishers by Comparing News Service to Apple Music, but Most Say Logic is Flawed
With less than one week to go until Apple's "It's Show Time" media event, the company is said to still be courting major news companies to join its revamped Apple News subscription service (via Business Insider). The debut of this service is expected to occur alongside the big focus of the event, Apple's streaming TV service.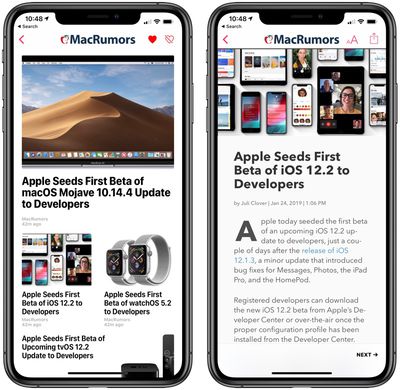 During Apple's meetings with news publishers, the company is reportedly pointing to Apple Music to showcase evidence of its previous subscription success and convince partners to join. One source said that the company is pitching itself as a savior to the publishing industry, but some publishing executives have said that Apple's logic is flawed.

"Based on our experiences with Apple Music, we're very good at running a subscription business," said one publishing exec, describing how Apple pitched the service. "We know how to build a subscription business, and we're going to do that for news."

But the critics say that comparison is flawed. Music, along with entertainment, is inherently different from news. A lot of news articles are interchangeable in a way that music artists or movies aren't. Plus, most people don't want 100 magazines; they just want the ones they're already fans of.
The revamped ‌Apple News‌ service is rumored to use Apple's acquisition of Texture to combine subscriptions to magazine and news sites for one monthly fee. But, one digital publishing executive went so far as to say that "no one wants an all-you-can-eat magazine service." The executive, whose company won't be participating with Apple in its new enterprise, went on to say that "magazines are passion points, whereas music, you do want a library."
Apple is said to still be courting major newspapers, but The New York Times and The Washington Post have yet to join according to sources. Some publications do see a benefit to Apple's service, however, and are working on deals to join, like The Wall Street Journal.
In general, publishers also have many questions that Apple has yet to answer, a sentiment that seems to be a running theme for the March 25 event, as the exact same concern was raised by Hollywood insiders partnering with Apple's streaming TV service. For the news side, publishers wonder about how much reader data they will see, brand visibility, loss of direct subscribers in favor of the ‌Apple News‌ bundle, if the service will have a presence on Android, and more.
The reveal of the ‌Apple News‌ and streaming TV services isn't too far away now, as Apple's "It's Show Time" event will kick off at 10:00 am Pacific Time on Monday, March 25.