Version 15 of Ulysses was released today, bringing some notable new features to the popular Mac and iOS app for writers.
On Mac, users now edit two texts simultaneously in a split editing window, with options to display the two texts next to or on top of each other and switch the editors around.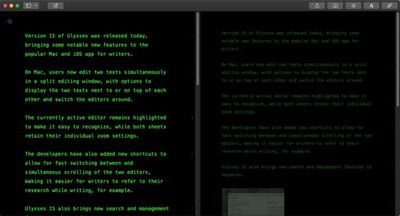 The currently active editor remains highlighted to make it easy to recognize, while both sheets retain their individual zoom settings.
The developers have also added new shortcuts to allow for fast switching between (Command-Option-Left/Right) and simultaneous scrolling (holding Option) of the two editors, making it easier for writers to refer to their research while writing, for example.
Ulysses 15 also brings new search and management features to keywords, with a new way to search for keywords in the sheets panel.


There's also a new Keywords Manager lets users edit all keywords in one spot, with options to change colors, rename, merge or delete them.
Elsewhere, users can now set pre-defined image sizes that apply during export, and Ulysses is now able to display previews of web images inside the editor (i.e., images that are referenced with a URL). Web images are now also supported when exporting to PDF, DOCX, or ePub.
In addition, Ulysses for Mac, iPhone and iPad now includes an option to turn on a dark mode for the export preview, enabling users to view what a final ebook, PDF document or blog post will look like without being blinded by a contrasting white screen.
Ulysses can be downloaded for free on the App Store and the Mac App Store. After a 14-day trial period, a subscription is required to unlock the app on all devices. A monthly subscription costs $4.99, while a yearly subscription is $39.99. Students can use Ulysses at a discounted price of $11.99 per six months. The discount is granted from within the app.