Samsung's New Galaxy S10+ vs. Apple's iPhone XS Max
Samsung's new Galaxy S10+, announced on February 20, is set to ship next week with all of the latest technologies Samsung has developed over the course of the last year.
We were able to get our hands on an S10+ early, and we thought we'd take a look to see how it measures up to the iPhone XS Max.
Samsung's Galaxy S10+ uses the design that we've come to expect from modern smartphones, with an edge-to-edge display and slim bezels designed to maximize available screen size. The Galaxy S10+ uses a 6.4-inch 3040 x 1440 OLED display and rather than a notch, there's a hole punch-style cutout that Samsung calls the Infinity-O display.
On the S10, it's a single little circle, but on the S10+, which has a dual-lens front-facing camera, the cutout, located at the right side of the display, is a bit wider. It's an odd location, but like the notch, it kind of blends in and you forget it's there with regular use. The OLED display looks amazing with bright, vibrant colors, as does the ‌iPhone‌ XS Max display, but the display of the S10+ curves down towards the edges.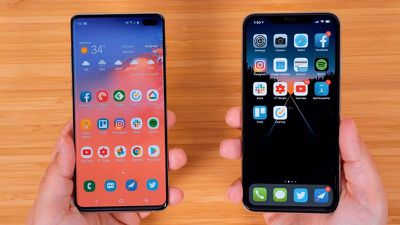 At 6.4 inches and with these curved sides, the S10+ is not a one-handed device, but then neither is the ‌iPhone‌ XS Max. Rather than using facial recognition like Apple, which Android device manufacturers have yet to master, Samsung implemented an under-display ultrasonic fingerprint sensor. It's neat and works well enough, but it's not as fast or as accurate as Face ID.
Apple's ‌iPhone‌ XS Max has a dual-camera setup, while the Galaxy S10+ is equipped with three cameras: a telephoto, a wide-angle lens, and an ultra wide-angle lens. This is the same general setup that we're expecting in the 2019 successor to the ‌iPhone‌ XS Max, but for now, Samsung has the edge here. We're going to be doing a deeper dive into the S10+ camera, so stay tuned to MacRumors for that.


Samsung implemented a unique "Wireless PowerShare" feature that lets the Galaxy S10+ charge other Qi-based devices like the Galaxy Watch, the Galaxy Buds, and even the ‌iPhone‌. It's quite a neat feature and one that Apple is also rumored to be implementing in the 2019 ‌iPhone‌ lineup. 2019 iPhones should be able to charge the rumored AirPods with wireless charging case that are in the works and other Qi-based devices.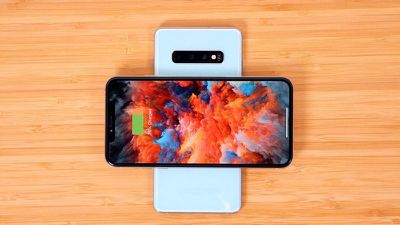 The Galaxy S10+ brings an updated One UI Android skin, which is similar to the stock Android installation on Google Pixel devices. It's quick, fast, and has a system-wide dark mode, which is something that's also rumored to be coming to iPhones in 2019 with iOS 13.
As for internals, the Galaxy S10+ is using either a Qualcomm Snapdragon chip (in the U.S. and China) or its own Exynos processor. Benchmarks have already suggested that the Galaxy S10+ is slower than the iPhone XS Max, but in practice both smartphones are so fast that there's not going to be much of a noticeable difference in performance between the two.


Samsung's Galaxy S10 and S10+ are certainly some of the best Android devices available right now with innovative features and top of the line specs that aren't included in current iPhones. We'll need to wait for September to see what Apple has in store for its own 2019 device lineup, but rumors so far are promising.
Are you impressed with the Galaxy S10 and S10+? Are there features you hope will come to Apple devices? Let us know in the comments.