Oppo Introduces 10x Optical Zoom Triple-Camera Smartphone
Android smartphone manufacturer Oppo has introduced a 10x optical zoom camera system that is said to be shipping in the spring. Engadget describes the system:
This will still be enabled by a triple-camera module, but now we know that from top to bottom, it'll start with a 48-megapixel high-resolution main camera, followed by a 120-degree ultra-wide camera and a stealthy periscopic telephoto camera. Together, these cameras cover a range of 16mm to 160mm, hence the 10x zoom rating.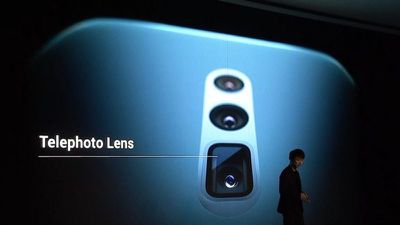 Both the main camera and zoom camera come with optical image stabilization, and the phone interpolates between fixed zoom settings to provide continuous "optical" zoom from 1x to 10x.
Oppo allowed hands on time with prototypes of the device with early software. GSMArena and PCWorld provide some sample zoom shots from ultra-wide to 10x zoom.

10x zoom sample shot via PCWorld
Apple has been
widely rumored
to be including a triple camera system in their 2019 iPhones. The
mosts recent rumor
from Ming Chi Kuo indicates that the new iPhones will have a "wide, telephoto, and ultra-wide lens". Apple
describes
the current
iPhone
XS as having "Dual 12MP wide-angle and telephoto cameras".
Beyond the presence of the three cameras, the exact advantages to Apple's new system has not been fully articulated. The most concrete features described of the new camera system came from Bloomberg:
A third camera on the back of the 2019 iPhone will help the device capture a larger field of view and enable a wider range of zoom. It will also capture more pixels so Apple software could, for example, automatically repair a video or photo to fit in a subject that may have been accidentally cut off from the initial shot, according to the people familiar with the plans.
Apple's next generation 2019 iPhones are expected to launch this fall.